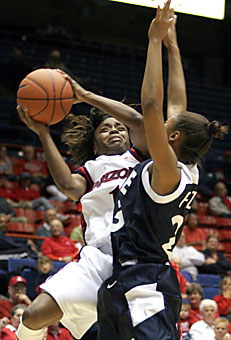 CLAIRE C. LAURENCE/Arizona Daily Wildcat

Arizona senior point guard Dee-Dee Wheeler has been a catalyst for the Wildcats during each of her three seasons at the UA, including the past two when she was named the team's co-most valuable player. With just one season left at the collegiate level, Wheeler hopes to complete her resume as one of the greatest players ever to grace McKale Center.

By Amanda Branam
Arizona Daily Wildcat
Friday, November 19, 2004
Print this


Every great team has great leadership ... the Cats are no exception ...

Sure, a share of the Pacific 10 Conference title last year was nice, and being a two-time first-team all-conference performer wasn't too shabby either.

But senior point guard Dee-Dee Wheeler wants more.

This is the very last season of her collegiate career and if she has it her way, this one won't be done without a Pac-10 championship. One they don't have to share with Stanford. Also, the season wouldn't be ending until, say, late March? Early April?

"Not saying that the other years didn't count, but this year, things are different. I mean, I'm a senior, this is my last time around, and I think we can get things done," she said.

This year I definitely think we can win the Pa
-10 outright"
- Dee Dee Wheeler, Senior Guard

"We know we have a team chemistry, a team cohesion and the coaches. I mean we have every ingredient to make this into a championship team. It's really hard, so we just gotta put it all out there and just compete every game."
Wheeler made her presence known from the day she walked onto campus her freshman year, both on her team and in conference. She was the Pac-10 freshman of the year in the 2001-'02 season, and was the top freshman scorer in the conference. She was also the UA defensive player of the year that season.
Her impact on the team and the conference has continued through her career here. She earned first-team All-Pac-10 honors in her sophomore and junior years, and has shared the team MVP honors with junior center Shawntinice Polk the last two seasons. Wheeler is also third on the UA career points list.
Last season, she began her current streak of 35 consecutive games of double-digit scoring. With Polk, she led the team to share its first-ever Pac-10 title, and has helped the team win a record 29 straight at home.
"I've matured definitely as a team leader. I make better decisions. From the day I stepped foot here, it was more like, just get the ball and run. Now I have my head up, I'm making better decisions, and not relying on Coach B to tell me what to do," she said.
The Wheeler File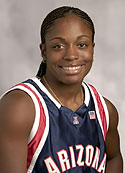 Dee-Dee Wheeler
preseason State Farm Wade Trophy Candidate
two-time first-team All-Pac-10 selection
2001-2002 Pac-10 freshman of the year
2003-2004 scoring average: 16.9 ppg
Already this season, Wheeler has been named a preseason honorable mention All-American, and she has been named a Wade Trophy and Naismith Award candidate. Both are awards for the top female basketball player in the country.
Wheeler has big plans for the team this year as well. She does not leave much doubt as to how she thinks this team should finish.
"This year I definitely think we can win the Pac-10 outright," she said.
"Stanford has a great team, and so do a lot of other teams in the Pac-10, but I definitely think we have the most dominant team as a whole in the Pac-10, from the starters to our bench players."
Regardless of how the season plays out, Wheeler is hoping that her basketball career does not end with the college game. She is hoping for the WNBA, but if she does not get drafted there, she is willing to play overseas as well.
Whether she gets drafted to the WNBA or not will also dictate when she finishes her degree in Elementary Education. Wheeler said she will have two semesters worth of school after May, so if she did get drafted to the WNBA, she would return at some later date to finish her degree due to the timing of the WNBA season. If she were to get drafted to a team overseas, she would likely stay in Tucson to finish her degree before leaving.
If nothing in the professional basketball realm were to work out for Wheeler, she said she would move back to her hometown, Chicago, to teach and coach - preferably at Dunbar Vocational Career Academy, where she attended high school.
"As long as I am some part within the sport of basketball, I'll be fine," she said.
"As long as I'm playing basketball, that's my heart. I can make the adjustments."


Write a Letter to the Editor