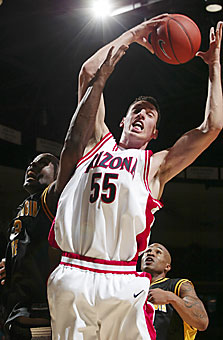 KEVIN B. KLAUS/ARIZONA DAILY WILDCAT

Forward Ivan Radenovic came to the United States and joined the Wildcats midway through last season. Radenovic is flanked by freshmen Jesus Verdejo, Daniel Dillon and Mohamad Tangara this season as foreign imports for the Wildcats.

By Roman Veytsman
Arizona Daily Wildcat
Friday, November 19, 2004
Print this


The international invasion hasn't only hit the NBA, but now college as well. The U.S. did not win the gold at the Olympics in basketball this summer, nor did they get the silver medal.

Basketball powers Argentina and Italy, respectively, took those medals.

Huh?

The influx of talent has, however, flown into Arizona, as the Wildcats currently have four players born in international countries, and one possibly joining the team for the second semester.

Sophomore forward Ivan Radenovic, who hails from Serbia-Montenegro, has been joined by three international freshmen in his second season: guard Daniel Dillon from Australia, guard Jesus Verdejo from Puerto Rico and forward Mohamed Tangara from Mali.

Head coach Lute Olson said he will recruit the best players for the program, no matter what part of the globe they come from.

"There are so many different accents; it's a lot of fun making fun of each other," Radenovic said.

The locker room looks like a United Nations conference, with the four players being from four different continents, all trying to communicate with each other.

"It's funny, everyone trying to understand each other," Dillon said. "It's good to meet people from other sides of the world."
Ivan Radenovic

sophomore forward
6-foot-10
Belgrade, Serbia-Montenegro

Jesus Verdejo

freshman guard
6-foot-4
San Juan, Puerto Rico
Even with the amount of talent that international players bring to the table, the American game is still often an adjustment for them. For that reason, those who possess a high level of skill or who are deemed to have potential often go to prep school in the United States.
With the exception of Radenovic, the other three UA players went to school in the United States for at least a few years.
Tangara played at Mt. Zion Christian Academy, which prepped alumni such as Tracy McGrady of the Houston Rockets. There, he spent two years learning English and averaging 13 points and 15 rebounds per game in his senior season.
Verdejo played basketball in prep school at The Winchendon School in Massachusetts. He also spent part of his high school career in Miami playing at Christian High School. This summer, he spent his offseason playing basketball for the Puerto Rican junior national team in a tournament where his team received the silver medal to a U.S. team featuring Wildcat teammates Hassan Adams and Mustafa Shakur.
"It was a good experience," Verdejo said. "For me, it was my fourth year on the international team. They beat us because they had a better team than us. I'm happy to be playing with them on the same team."
Radenovic also played for his country on the junior national team and says the experience helped him greatly, but he acknowledged that the stereotype of European play being soft was sometimes true.
"I learned so many things. I traveled and it was a lot of fun," Radenovic said. "But, playing here with the speed of the game helped a lot back home."
Dillon, meanwhile, played his high school basketball in the state of Kentucky, where he averaged 23 points and 10 rebounds per game.
"Everyone fits in because everyone tries to play the complete game," Dillon said.
When players taken from different backgrounds are put together on the same team, styles of play tend to differ.
But not on this team, where it's all about running the floor in a system that led to Arizona being the second highest scoring team in the country last season.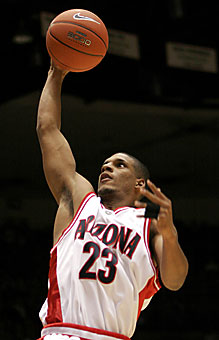 SAUL LOEB/ARIZONA DAILY WILDCAT
"Me, Jesus, and Ivan are used to playing a high speed game so we translate well into each other," Dillon said. "We work well together."
Working together has been a theme this year, and all the international players are big contributors. Verdejo scored 27 points in the Red-Blue game while Radenovic has taken over the starting power forward spot when junior Isaiah Fox sits out.
Dillon was also called the best rebounding guard on the team by Olson, and Tangara, playing in his first game against Sonoma State, grabbed five rebounds in only 12 minutes.
Being far from home has brought them closer together, and their willingness to work hard has become infectious.
"This year, my experience and my toughness will help us play hard," Verdejo said. "We're fighting for positions and we're just playing hard. But, we're all good friends."
With that type of attitude, the word "championship" can surely be understood in any language.


Write a Letter to the Editor