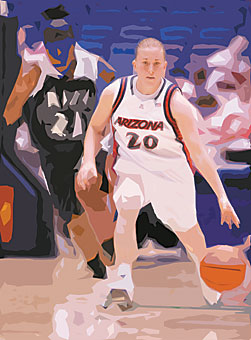 KEVIN. B. KLAUS/Arizona Daily Wildcat

Arizona freshman guard Jessica Arnold pushes the ball upcourt during the Wildcats' WNIT matchup with Rice earlier this season in McKale Center. Arnold's preseason play earned has earned her a starting spot so far and heavy playing time in her first season at the UA.

By Brett Fera
Arizona Daily Wildcat
Friday, November 19, 2004
Print this


She plays alongside arguably the best athlete the UA women's basketball program has ever seen - senior guard Dee-Dee Wheeler.

She's been handed the unenviable task of replacing a cult hero – former Wildcat sharpshooter Aimee Grzyb, a four-year starter who's Arizona's all-time leader in games and minutes played while sitting second on the UA career 3-point list.

She's also been thrust into action almost immediately, playing her first truly competitive basketball in nearly a year.

So how does UA freshman guard Jessica Arnold respond?

By scoring eight points in a span of just 22 seconds midway through her first collegiate regular season game. Arnold hit 5 of 6 from 3-point range overall, scoring 17 points on the night to pace the Wildcats to victory.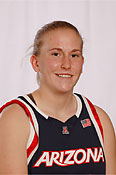 Jessica Arnold

freshman guard
5-foot-4
Tucson
(Palo Verde HS)
"Jessica just got into a rhythm and broke the game open," UA head coach Joan Bonvicini said after the team's season-opening win last week over St. Mary's.
A local product from Palo Verde High School, Arnold grew up attending Bonvicini's summer basketball camp, dreaming of someday wearing a Wildcat uniform under the lights in McKale Center.
The road to the UA starting lineup wasn't without its detours, however, as Arnold's progress was slowed by injuries in both her sophomore and senior seasons of high school ball, leaving her with just two years of high school experience before moving on to the bigger, faster college game. That dream is finally a reality, and Arnold, who also lettered in track and volleyball during her prep career, doesn't appear to be ready to wake up anytime soon.
"Jess plays with spark, emotion and fire," Bonvicini said. "Our freshmen give us a lot of depth."
Arnold, along with fellow freshman Ashley Whisonant, should provide the Wildcats the backcourt help they need this season - the kind of assistance the all-everything Wheeler hasn't seen much of in her three-plus years at the UA.
"It's good to see our freshmen stepping up," Wheeler said. "If I ever get into foul trouble like I did tonight, they can step up."
Her second game as a Wildcat - a 68-43 drubbing of Rice in the second round of the preseason women's National Invitational Tournament - may not have mimicked the jaw-dropping stat output of the team's opener, but the young guard showed the savvy of a veteran, adjusting her game to help her team in any way possible. Arnold is also her own toughest critic, figuring out the changes she needs to make in her own game while she's still out on the court.
"A quicker release is something I need to work on," Arnold said, after following up her opening-game performance of five 3-pointers by going 0-for-4 from behind the arc in her second game. "In high school, you can take some time. But in college you have people in your face right away."
"I'm getting more and more comfortable with the plays since the first exhibition," the 5-foot-4 guard added after supplementing her sluggish shooting with three rebounds, one assist and a steal.
Early expectations had Arnold and Whisonant, a 5-foot-8 guard form Bowie, Md., splitting time learning alongside Wheeler, even if Arnold's early play has put her in the driver's seat while Whisonant approaches full strength after an early season concussion.
"(Jessica's) quick and is a good leaper," Bonvicini said prior to her 14th season on the UA bench. "She will get game time right away, either as a starter or off the bench.


Write a Letter to the Editor