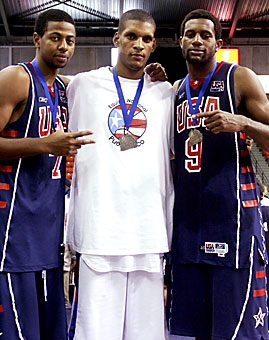 PHOTO COURTESY USA BASKETBALL

UA sophomore guard Mustafa Shakur, left, of the United States, UA junior forward Hassan Adams, right, of the United States, and UA freshman guard Jesus Verdejo of Puerto Rico pose after the U.S. defeated Puerto Rico for the gold medal at the Tournament of the Americas last summer.

By Roman Veytsman
Arizona Daily Wildcat
Friday, November 19, 2004
Print this


Our heroes never rest ...

Ah, summer vacation.

A time for many average college students to sit at the beach soaking in the sun, or relax back in their hometowns.

Some may even take a summer school class.

School was in session for Hassan Adams and Mustafa Shakur this offseason, but the UA men's basketball team's dynamic duo is anything but a pair of average college students.

Adams and Shakur, preparing for their second season together at the UA, had the chance to learn more about each other's games on the court while playing on the USA under-20 team in the Tournament of the Americas together.

The pair also attended the Michael Jordan camp in Santa Barbara and Nike camp, making it a basketball-filled summer for two players hoping to make big strides in their games heading into a potential championship season for the Wildcats.

"It was great to just to be playing all summer," Adams said. "The majority of the players we played with were USA team members. It was great, being a part of that, getting invited to it, it's always good."

The 6-foot-4 Adams may have led the Wildcats in scoring last year at 17.2 points per game, but on the USA team, he performed some of the dirty work the coaching staff needed to have a successful team. Even with that, he still managed to be third on the team in points per game, averaging 10.8, while leading the team in steals and being tied for second in blocked shots.

"Coach (Kelvin) Sampson is a great coach," Adams said of Oklahoma's head coach, who also led the USA team to the gold at the tournament. "I had a great time with him on and off the court. He's not so much different than Coach Olson. He stressed defense, and that's basically what we worked out a lot on. He picked the team on that, because everyone at the trials were one of the best players on their own team and could score. He was picking the players that were going to get down and do the dirty work, and not worry about their playing time."

Adams showed his versatility by playing a variety of positions - not unlike the role he played for the Wildcats last season - and finished third on the team in minutes played during the summer tournament.
Mustafa Shakur

sophomore guard
6-foot-3
Philadelphia
2003-04: 4.5 apg

Hassan Adams

junior forward
6-foot-4
Westchester, Calif.
2003-04: 17.2 ppg
"Coach Sampson wanted players who were there to help the team as much as they can in practice or in the games," said Adams. "Coach Olson is the same way. He's all about team and not the individual person."
With Andre Iguodala departed from last year's team, and Isaiah Fox coming back off an injury, Adams is likely to play the small forward position this upcoming season, his natural spot on the floor. Because Adams will be playing that position more, he spent the summer working on the skills for the wing.
"I worked on ball handling and shooting. I just worked on being comfortable bringing up the ball and shooting the 3. I feel good about this season; I've been working on the wing, and I'm ready for it."
Unlike Adams, Shakur didn't receive an enormous amount of playing time, but he still took away a large chunk of knowledge that comes only from playing against good competition.
Playing behind Wake Forest's Chris Paul, Shakur was relegated to just 9.0 minutes a game, in which he averaged 3.0 points. However, the experience was valuable for the point guard, who was rated No. 1 in his class coming out of high school by many basketball experts.
"I got a chance to play against some great competition, guys from overseas who have different types of games and styles," Shakur said.
Shakur said he also enjoyed the camaraderie off the court.
"It was fun because everybody had a good attitude," he added.
Not everyone believed that USA basketball was about fun though, as the American basketball system has been often criticized in the past year after many of the USA basketball teams have lost in tournaments.
"It was great to win the tournament because all we heard beforehand and in practice was that USA teams aren't successful because of their selfishness," Shakur said. "We proved that wrong."
Not only did the USA team prove critics wrong, but Shakur hopes he and Adams can prove Arizona critics wrong too.
After spending practically their entire summer together, they feel like they have been teammates forever.
"Having the opportunity to play with Hassan some more was a great experience," Shakur said. "I really learned a lot more about his game and the things he likes to do on the court. I was a freshman last year so it's my first time playing with him for a year, and it's a great thing."
"That's just going to make us closer," said Adams about the time he spent with Shakur. "On the court, we know where the other person is at. We were critiquing each other, telling each other what we need to work at. We stayed on each other throughout the summer just because it's going to make us better at our school. He's the type of person that takes criticism well and so do I, so we knew we were going to get better and have a great time."
Shakur also learned a little more about his own game, after struggling with his jump shot in his freshman year.
"It was different because I was playing in a different system, but I think I adjusted pretty well. I worked on my jump shot a lot, and I worked on everything else I thought I needed to improve on," he said.
So after playing ball all summer, what did Shakur and Adams learn?
"The team game does work and defense wins games," Shakur said. "Offense keeps you in games, but defense wins them and we learned that from last year too."


Write a Letter to the Editor