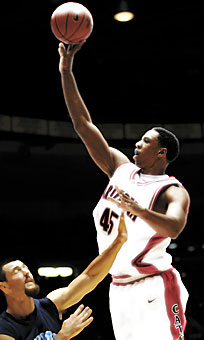 SAUL LOEB/Arizona Daily Wildcat

UA senior center Channing Frye elevates over a San Diego defender during the Wildcats' season-opening victory over the Toreros in McKale Center Tuesday. The discipline and on-court leadership o f Frye and senior shooting guard Salim Stoudamire could prove vital to the Wildcats' success come April.

By Brett Fera
Arizona Daily Wildcat
Friday, November 19, 2004
Print this


Meanwhile, back in Coach Olson's top-secret lab...

It's tough to argue with UA senior center Channing Frye's most recent assessment of Arizona head coach Lute Olson, now entering his 22nd season as the Wildcat men's basketball team's top dog.

"He's the guru," Frye said before an early-season mid-afternoon practice in McKale Center. "It's one big chess game to him."

"Some of us are rooks and some of us are pawns, and each of us has our own abilities," Frye added. "But every piece is just as important."

Arizona's seasons might be a game of strategy but the Wildcats' planned success on the road to the Final Four in St. Louis this season - coming off a disappointing first-round NCAA Tournament exit and a 20-10 overall record - will almost surely rely on the team's ability to school its opponents in just one simple subject: chemistry.

We can get to St. Louis with this group, and that's for real."

-Hassan Adams

"Last year was just hard for our team and for the coaches because of the depth and having a lot of people out of position," said UA junior swingman Hassan Adams, the Wildcats' leading scorer a year ago with an average of more than 17 points per game despite spending much of the season playing out of position. "It was one of those seasons that went up and down so it kind of seemed like we didn't have chemistry. Some games we did have chemistry and some games we didn't."
Only one player of consequence didn't return to the Wildcats this season, but the team did see an offseason influx of new faces, if not new personalities.
Gone is 2003-2004 UA most valuable player Andre Iguodala, the Wildcats' leader in rebounds, steals and assists a year ago.
Gone is that perceived negative aura surrounding senior guard Salim Stoudamire, a stigma of attitude that ultimately cost the sharpshooter a game on the bench late in the season against Pacific 10 Conference foe Washington.
In are five newcomers, a group of freshmen set to rival any incoming class Olson's ever had at the UA in terms of raw talent.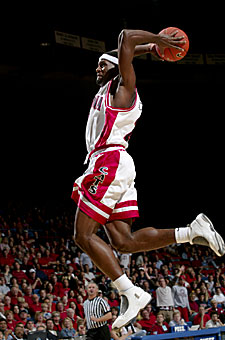 KEVIN B. KLAUS/Arizona Daily Wildcat
And - most importantly - in is a new desire for the returning corps of UA veterans to keep their eyes on the prize, something they say was lost in the shuffle last season.
"It's real refreshing knowing that it is a new year and that last year isn't totally erased but it's behind us," said Stoudamire, a preseason Naismith player of the year candidate, alongside teammates Mustafa Shakur, Adams and Frye. "I think we use it as motivation."
That motivation, according to Stoudamire, rests in the hands of Frye and himself, the team's pair of elder statesmen looking to take advantage of their final shot at reaching the pinnacle of college basketball: the Final Four.
"I've been on Channing a lot, because I feel like I'm the only one that can," Stoudamire said. "I'm expecting a lot from us this year."
So is Olson, who said he's certain Stoudamire's questionable on-court demeanor of a year ago is exactly that - a thing of the past.
"In the past, if he had a bad shooting game, it would usually affect the rest of his game," Olson said of his starting shooting guard. "That is the kind of maturity that we have been seeing from him where he understands he can affect the game in a lot of different ways in a positive manner."
"That shows that I'm smart. An unintelligent person wouldn't learn from the situation that I was in last year," Stoudamire says of his transgressions last season. "I think that I've got a lot of wisdom from those situations. This year, I have a different mentality and I'm not going to get into those situations, so I'm going to do the best that I can to stay away from those things."
As far as Frye, the senior center has once again added bulk to his 6-foot-10 frame, giving him enough physical prowess to retain his status as one of the marquee post players in all of college basketball.
"In Channing's case, I think it obvious how much stronger he is and how much more aggressive he is," Olson said. "He's running the court really well as he's always done, but I think he is catching and finishing plays better in the open court."
"I was watching a show about snakes on the Discovery Channel last night," Frye said. "It said every time a rattlesnake sheds, it gets a new rattle. We just got our new rattle."
To Frye and Stoudamire, the rattle is that renewed swagger that led the Wildcats to the Final Four in 2001, the Sweet 16 in 2002, and the Elite Eight in 2003 before last season's postseason setback.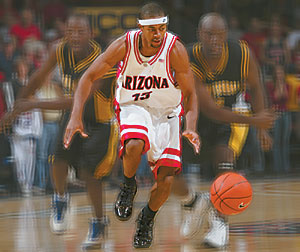 KEVIN B. KLAUS/Arizona Daily Wildcat
UA point guard Mustafa Shakur looks to separate himself from the rest of the pack during his sophomore season this year, as the 6-foot-3 Philadelphia-native is already presumed to be an early lottery selection in next year's NBA draft.
It's also the addition of players like forward Mohamed Tangara, guards Jawann McClellan and Daniel Dillon, and wing Jesus Verdejo, four rookies whose presence could be felt from the season's opening tip this month all the way through April.
"I think it's going to help us a great deal because guys won't be getting worn down by March time," Stoudamire said of the team's newfound ability to use more than seven players in its rotation. "During practice you're going to be tested everyday, so you won't have days you can take off."
To Frye, the X-factor of this year's team appears to be the return of junior forward Isaiah Fox. The 6-foot-9 junior is fresh off a season where he saw action in just two early games and was forced to battle back from knee surgery on the court in addition to seeing his name in the police blotter off the court prior to last season.
"I feel great. Last year, sitting on the bench was not fun," Fox said. "Not only can you not play, but you can't be around the team as much."
Fox said the addition of players like Tangara, who can bang down in the post, on top of his own return, gives this year's Wildcats an advantage over last year's considerably thin lineup - a lineup that saw the 6-foot-4 Adams spend virtually the entire season playing power forward.
"I think that's one of the big differences. We've got a lot more talent from the underclassmen," Fox said. "We've got a lot deeper, we've gotten taller if you average it out."
"(Adams is) going to be able to play his natural position. It's going to be better for everybody."
Fox added that he takes the idea of team chemistry and camaraderie as serious as anyone.
"I actually called a lot of the freshmen guys when it first happened because I knew they'd hear about it," he said of last season's situation where he was accused of stealing from a campus convenience store.
"I'd met them before and I knew them, so I kind of did it on my own," he admits, adding that he did it without needing to be asked by Olson. "I just wanted to make sure the guys on the team knew before it went out to the paper, and I considered them part of the team even then."
With their sights set on a pair of games in April and an early-season No. 10 ranking, Fox said he thinks the Wildcats appear poised to send Frye and Stoudamire off with a Final Four ring on their hand - if their heads stay focused, that is.
"St. Louis is the ultimate goal," he said. "I think that's everyone's ultimate goal, and right now it looks good."
"We can get to St. Louis with this group, and that's for real," Adams added. "It's on us."


Write a Letter to the Editor