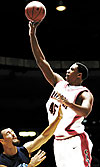 Chemistry key to UA run
Meanwhile, back in Coach Olson's top-secret lab...
It's tough to argue with UA senior center Channing Frye's most recent assessment of Arizona head coach Lute Olson, now entering his 22nd season as the Wildcat men's basketball team's top dog.
"He's the guru," Frye said before an early-season mid-afternoon practice in McKale Center. "It's one big chess game to him."
"Some of us are rooks and some of us are pawns, and each of us has our own abilities," Frye added. "But every piece is just as important." [Read article]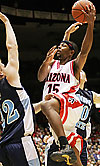 National domination
The expectations were high last season, as Arizona had a preseason ranking of No. 4. But no one knew which Arizona team would show up - the team that beat Texas and Marquette early in the season, or the team that got swept by Washington in the season series and the Pacific 10 Conference Tournament and lost to Seton Hall in the first round of the NCAA tournament.
"I think it's a matter of if there are still question marks of which Arizona team you're going to see, the one that can play with anybody or the one that struggled," said head coach Lute Olson. [Read article]




No more sharing the spotlight
Last year's tie for the Pac-10 title just won't cut it for UA ...
A season removed from a program-best campaign, the No. 24 UA women's basketball team looks to build upon its previous success while blazing new trails.
UA returns four starters from last year's 24-9 squad, led by senior point guard Dee-Dee Wheeler and junior center Shawntinice Polk.
Polk averaged 16.6 points and 10.3 rebounds a night last year, while Chicago native Wheeler posted 16.9 points, 4.7 assists and 4.2 rebounds per game. [Read article]



Commentary: No Iguodala? No problem
Right now, he's probably just waking up, tired from logging minutes as the starting small forward for the Philadelphia 76ers. They had a game last night against the San Antonio Spurs. Maybe Bruce Bowen guarded him, he of four consecutive NBA All-Defensive Team appointments. Andre's quicker, but Bowen has the savvy.
I bet Andre's in some giant pain right now.
Believe it or not, the team he left won't be. Not today in practice. Not the next day. Not even Sunday against Virginia at Charlottesville. Without Andre Iguodala, the UA men's hoops team will be just fine. [Read article]



Commentary: Polk, Wheeler reminiscent of Kobe, Shaq era
Throughout their ill-fated run to the NBA Finals last season, the Los Angeles Lakers relied yet again on their Dynamic Duo. Guard Kobe Bryant and center Shaquille O'Neal, much as they had during the team's last few playoff (read: title) runs, dominated at times with an unrivaled inside-outside game but floundered when facing similar, deeper personnel.
This famously occurred in May in Games 2 and 5 of the Western Conference Finals against the Minnesota Timberwolves. 'Wolves guards Sam Cassell and Latrell Sprewell, along with a spry, supercharged Kevin Garnett in the post, frustrated the Lakers and negated the efforts of their two top scorers. Though Los Angeles would win the series in six games, setting the stage for a Detroit-sized dismantling in the Finals, the team prevailed merely by the sparks provided by guard Kareem Rush (6-of-7 from beyond the arc in Game 6) and forward Luke Walton, an Arizona alum. [Read article]




Wheeler's world
Every great team has great leadership ... the Cats are no exception ...
Sure, a share of the Pacific 10 Conference title last year was nice, and being a two-time first-team all-conference performer wasn't too shabby either.
But senior point guard Dee-Dee Wheeler wants more.
This is the very last season of her collegiate career and if she has it her way, this one won't be done without a Pac-10 championship. One they don't have to share with Stanford. Also, the season wouldn't be ending until, say, late March? Early April? [Read article]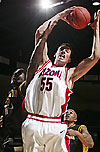 International Invasion
The international invasion hasn't only hit the NBA, but now college as well. The U.S. did not win the gold at the Olympics in basketball this summer, nor did they get the silver medal.
Basketball powers Argentina and Italy, respectively, took those medals.
Huh?
The influx of talent has, however, flown into Arizona, as the Wildcats currently have four players born in international countries, and one possibly joining the team for the second semester. [Read article]




Devastating Depth
Last year's loss to Seton Hall in the first round of the NCAA tournament is still ingrained in the minds of the remaining players of the UA men's basketball team.
The Wildcats shot 53 percent from the field in that game, while the Pirates shot just 47 percent, and the UA hit 15-of-19 from the free throw line, after leading the Pacific 10 Conference in that category throughout the season.
So what actually happened? [Read article]




Hometown Hero
She plays alongside arguably the best athlete the UA women's basketball program has ever seen - senior guard Dee-Dee Wheeler.
She's been handed the unenviable task of replacing a cult hero - former Wildcat sharpshooter Aimee Grzyb, a four-year starter who's Arizona's all-time leader in games and minutes played while sitting second on the UA career 3-point list.
She's also been thrust into action almost immediately, playing her first truly competitive basketball in nearly a year. [Read article]




My Summer Vacation
Our heroes never rest ...
Ah, summer vacation.
A time for many average college students to sit at the beach soaking in the sun, or relax back in their hometowns.
Some may even take a summer school class.
School was in session for Hassan Adams and Mustafa Shakur this offseason, but the UA men's basketball team's dynamic duo is anything but a pair of average college students.
Adams and Shakur, preparing for their second season together at the UA, had the chance to learn more about each other's games on the court while playing on the USA under-20 team in the Tournament of the Americas together. [Read article]



Commentary: Arizona men poised to win it all, or lose really early again
This men's basketball team has a chance to be really good.
Or really bad.
The maturity the team has shown over the past offseason has everyone ranting about how the Wildcats have a chance to make another Final Four.
Yeah, but what about Isaiah Fox continually having off-court problems and sitting out the first few games?
Well, the power forward that missed all last year hasn't done much wrong to date except coming in resembling the Pillsbury Doughboy with a vertical that just eclipses college ruled paper. But at least he hasn't stolen anything. [Read article]



Staff picks: preseason predictions
How will the Arizona teams fare, and who will win national championships? [Read article]



Super Men Vs. Super Villains
NCAA Top 25. [Read article]



Cat Women Face Fierce Battle
NCAA Top 25 [Read article]



Gameday guide
Ticket and TV info. [Read article]



UA men's hoops 2004-05 schedule

UA women's hoops 2004-05 schedule

Men's Pac-10 Breakdown
Pac-10 rankings. [Read article]



Women's Pac-10 Breakdown
Pac-10 rankings. [Read article]