Tuesday, November 23, 2004


Serial rapist Selby found hanging from cell window
Convicted serial rapist James Allen Selby was found dead in his cell yesterday at Pima County Jail, after apparently hanging himself, authorities said.
His death occurred the day he was scheduled to be sentenced for sexually assaulting five Tucson women and a 13-year-old girl between October 2001 and November 2002. One of the women was a UA student at the time. Selby could have faced life in prison. [Read article]




Pres. Likins: No pain, no gain
President looks to better days in State of University address
Although university employees may be feeling "pain" now due to budget cuts and program eliminations, the UA has a promising future because of bold visions and higher standards of excellence, said UA President Peter Likins yesterday.
In his State of the University address, Likins spoke about the UA's national future to a crowd of more than 500, including U.S. Congressman Jim Kolbe (R-Ariz.), former U.S. Congressman Jim McNulty, Tucson Mayor Bob Walkup, and three past UA presidents: John Schaefer, Henry Koffler, and Manuel T. Pacheco. [Read article]




UA's Cassini team to probe Titan, Saturn's largest moon
The Cassini-Huygens spacecraft orbiting Titan, Saturn's largest moon, will release a lunar probe on Christmas day that will penetrate the mysterious moon's thick atmosphere and be the first to land on a world in the outer solar system.
UA professor Jonathan Lunine, one of the interdisciplinary scientists working on the mission, described Titan as, "the last unexplored Earth-like environment." [Read article]



Student group petitions for global food aid
Members of the UA chapter of Amnesty International, clad in skeleton T-shirts, held two petition signings on the Mall yesterday to take action against the food crises in Zimbabwe and North Korea.
Ashley Davidson, an Amnesty International member, said the group decided to increase awareness of starvation overseas this week because Thanksgiving is coming up and students have food on their minds. [Read article]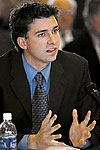 Students cut class to prolong Thanksgiving time with family
Some students are prolonging their Thanksgiving break this week by skipping classes and traveling out of town early, despite failed attempts by student leaders in past years to officially cancel classes.
Stephanie Schroer, a molecular and cellular biology freshman, said she will skip class tomorrow so she can get home to Sierra Vista earlier. She said she is not the only person skipping class this week. [Read article]




Engineering students construct mine rover
Two UA engineering students have built a radio-controlled rover to explore the mysteries inside old mines in the Arizona desert.
Keith Brock and Jessica Dooley, both aerospace engineering seniors, were curious about what was inside a mine northeast of Phoenix near Congress, Ariz., but were not willing to risk their lives to find out.
Brock and Dooley, members of the UA's Aerial Robotics Club, said they were familiar with the technology necessary to make the rover, so it only took two weeks to go from an idea to the finished product. [Read article]




Fast facts
Things you always never wanted to know
The Mona Lisa, by Leonardo Da Vinci, measures less than two feet wide by two feet high, and X-rays show three completely different versions of the same subject under the final portrait. The real name of the painting is La Giaconda.
In March 1896, Thomas Edison had developed a fluoroscope that became the standard for medical X-ray examinations. Nevertheless, Edison dropped X-ray research in 1903 after the death of Clarence Madison Dally, one of his glassblowers. Dally had a habit of testing X-ray tubes on his hands, and acquired a cancer in them so tenacious that both arms were amputated in a futile attempt to save his life. [Read article]




showAds('bigbutton')?>






showAds('mediumbutton')?>

showAds('wildlinks')?>