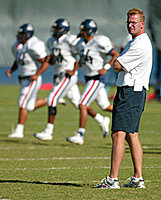 Gridiron Roundup: Stoops ready for UA debut
With the season opener less than four days away, the excitement of the 2004 season is building around the Arizona football program.
The Wildcats open the Mike Stoops era Saturday against Northern Arizona at 7 p.m. at Arizona Stadium. Stoops took over the Wildcats in late November, but according to the first-year head coach, it has seemed like a much longer process.
"It seems like it has been an eternity," he said. "It's going to be exciting for our kids to get out and show what they've learned over the past nine months." [Read article]




Volleyball: Cats black and blue for opener
With the Arizona volleyball team's season opener at San Diego State just a day away, the Wildcats have already weathered their share of bumps and bruises.
The sorest spot on the team may be the loss of junior outside hitter and two-time All-American Kim Glass, who is suffering from a shoulder injury. Glass received a cortisone shot and is expected to miss two or three weeks.
"I'm not allowed to talk too much about it right now other than it's a shoulder injury," said UA head coach Dave Rubio. "She will be re-evaluated after two weeks and at that time (we will) see how much she can start doing overhead. But right now, it looks like she is going to be doing some rehab for the next couple of weeks. We just hope (the cortisone shot) can help reduce some of the inflammation in the shoulder and give it a few weeks for that to take effect and also to strengthen the shoulder." [Read article]



Commentary: Gridiron wishes and Super Bowl dreams
Playing intramural sports probably won't get you onto Lute and Bobbi Olson Court in front of 14,000 people for ABC's game of the week.
And I doubt head football coach Mike Stoops is going to be calling on you to make a big play against Southern California because of the move you put on some journalism major in your last flag football game.
Playing intramural sports could get you even more without the four hour practices and the off-season workouts. [Read article]




Open Mike
"You have to want to win, you have to know how to win and you have to expect to win." - Mike Stoops
Ask UA football coach Mike Stoops if his team wants to win, and how would he respond?
If every single player staying in town to attend voluntary workouts this summer is any indication, Stoops' answer would be a resounding yes.
Ask Stoops if the Wildcats expect to win, and the reply would be similar. [Read article]




The Stoops Effect
Arizona football tickets selling like hot cakes
UA basketball may still the hottest ticket in town, but Arizona football is beginning to catch up.
As of last week, the UA had sold about 25,000 non-student season tickets for games at Arizona Stadium. The school record is about 28,000, set in 1994, the same year Sports Illustrated picked the Wildcats as the preseason No. 1 team in the nation. [Read article]



Desert Storm: Stoops builds an army in the desert
Mike Stoops
head coach
Last job: Oklahoma defensive coordinator/associate head coach
Stoops is entering his first year as head coach in any program. He takes over a Wildcat team that finished a school-worst 2-10 last season. Though he hasn't yet coached a game, Stoops has already brought excitement to the Tucson area. He has coached at Iowa, where he played collegiate football, Kansas State and Oklahoma. In that time, he has always worked on the defensive side of the ball. [Read article]



Arizona Football 2004 Roster and Schedule [Read article]




Running WILD
Junior tailback Mike Bell is ready for more carries, more wins and for his chance to shine in the spotlight
It's been two years since Mike Bell scored his first touchdown in an Arizona uniform, and even some of his teammates can recall the first time he hit paydirt.
"I remember his first touchdown. They ran the ball to my side and Mike ran in from like 20 or 30 yards." said senior offensive tackle Brandon Phillips. "He turned around and he had this little kid grin. Since then he's grown up a little bit, but he still has that same excitement." [Read article]




Can-do Costa
Speedy, strong junior quarterback adds receiving, running to his repertoire
During preseason training camp it became official: Junior Nic Costa traded in his protective non-contact red jersey for receiving gloves and a new nickname.
Costa, who came to the UA a highly touted quarterback, should expect to see time this season lined up at quarterback, receiver and running back. He's been called "slashback" and "blurback" by the media, but "slash" has caught on with the coaches. [Read article]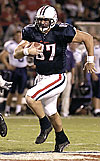 The Flem Squad
How senior tight end Steve Fleming's fan club plans to follow its leader straight to the NFL
Duke basketball has the Cameron Crazies.
Texas A&M has the 12th Man.
Arizona has ... the Flem Squad?
Chances are if you've attended a football game at Arizona Stadium, you've encountered the phenomenon of senior tight end Steve Fleming's unofficial fan club.
The group, originally a few childhood friends, formed to show support for Fleming, who the friends believed would be in the next big thing in Arizona football. [Read article]



Commentary: Why you should watch UA football in 2004
When you have a team that can't compete, there tend to be some open seats.
Last season, the student section was bursting at the seams at the beginning of play. But once halftime hit, Arizona Stadium was as crowded as the Athens Olympics.
So why should you come back for more in'04?
Here are just a handful of reasons:
Heavner's progression
Since the once-great quarterback race is limited to who will be the backup, the QB position will be boring, right? [Read article]



Commentary: Stoops deal a bargain no matter how it's added up
Editor's note: This commentary was originally published on Dec. 2, 2003, days after Arizona hired head coach Mike Stoops.
Think Mike Stoops was suckered into this head coaching deal? Did he fail to read the fine print? Is he is the next contestant on "The UA Price is Right?"
Certainly not.
While Stoops will receive $150,000 less in base salary than the team's last coach, John Mackovic, the incentives dripping from Stoops' contract make the signing look like more of a steal than it really is. [Read article]




Virtual Football: More real than EVER
If the virtual world is at indicative of reality, this year's Arizona Wildcats can breathe a little easier.
Junior tailback Mike Bell and freshman cornerback Antoine Cason faced off last week in the first ever Wildcat Video Challenge, in which Cason and his virtual Wildcats shut out Bell's Arizona State squad 18-0 after play was halted midway through the third quarter.
Mike Bell as a Sun Devil? [Read article]



PAC-10 offseason news
UA freshman McCollins Umeh dies at first summer workout
Incoming Arizona freshman football player McCollins Umeh died during a voluntary workout on campus June 8.
The death was the result of an enlarged heart and was not heat-related, according to autopsy report from the Pima County Medical Examiner's Office.
Umeh, 18, collapsed 20 minutes into the workout on campus, less than 24 hours after arriving from Houston. A 6-foot-3, 245-pound defensive end, Umeh was the Wildcats' top recruit this year. [Read article]



Game Day Guide
Arizona Stadium Ticket Info:
Prior to game day:
McKale Ticket Office
9 a.m. – 5 p.m.
520-621-CATS or 800-452-CATS
Game day purchases:
stadium ticket office from 10 a.m. through halftime
UA Football Television information:
Expected 2004 national telecasts (as of Aug. 30): [Read article]



Know thine enemy
A team-by-team Breakdown of Arizona football's 2004 opponents
Pac-10 preseason media poll

1. SOUTHERN CALIFORNIA (24) 240

2. California - 210
3. Oregon - 192
4. Oregon State - 138
5. Washington State - 133
6. ASU - 131
7. Washington - 100
8. UCLA - 98
9. Stanford - 40
10. Arizona - 38
first place votes in parentheses

[Read article]



Staff picks
'04 College Football

What will Arizona's season record be?

[Read article]