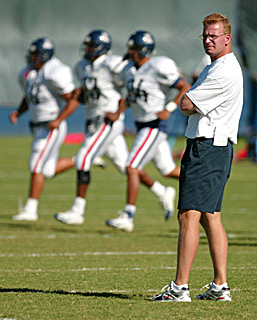 KEVIN B. KLAUS/Arizona Daily Wildcat

UA head football coach Mike Stoops directs practice yesterday at the Jimenez practice facility. Stoops will lead the Wildcats on the field for the first time this weekend against NAU.

By Charles Renning
Arizona Daily Wildcat
Tuesday, August 31, 2004
Print this


With the season opener less than four days away, the excitement of the 2004 season is building around the Arizona football program.

The Wildcats open the Mike Stoops era Saturday against Northern Arizona at 7 p.m. at Arizona Stadium. Stoops took over the Wildcats in late November, but according to the first-year head coach, it has seemed like a much longer process.

"It seems like it has been an eternity," he said. "It's going to be exciting for our kids to get out and show what they've learned over the past nine months."

Stoops will be coaching in his first game at the helm of his own program and said he'll be more anxious than nervous, comparing the feeling to playing in his first collegiate game as an undergraduate at Iowa.

"I don't think there is any more pressure on me than when I was an assistant," he added. "It's always good to be a bit nervous. It makes you know the importance of it."

Stoops said he will also probably call his brother Bob, head coach at Oklahoma, for a little advice and just to touch base.

2004 Season Opener
Arizona Wildcats

vs.

NAU Lumberjacks
Saturday
7 p.m.
Fox Sports Net - 1290 AM
---
Arizona Stadium
NAU head coach Jerome Souers said he remembers his first season as a head coach and all the stress that comes with it.
"I'm not sure there's any manual that really prepares you to be a head coach. There wasn't for me," he said. "There ends up being a lot of learning along the way. If you approach the situation with a lot of enthusiasm and a lot of energy, but the reality is it's a big job and there are a lot of responsibilities that go with it."
Souers took over the Lumberjacks seven years ago, struggling his first few years before finishing one of the best seasons in school history last year.
"Establishing real growth in your program takes time," Souers said.
Stoops has said on numerous occasions that he expects to be competitive in his first year and build off of it.
Besides the thrill of coaching in his first game as a head coach, he said he is most
looking forward to the opportunity for his players to show the strides they have made from last season.
"It's exciting to our players, they're anxious to show that they are a different team than they are in the past," he said.
Cats escape fall practice with light injury count
The Wildcats escaped preseason practice with few injuries and none that were too serious, a fact that Stoops said is directly connected to the work put in during off-season workouts..
"It's a direct correlation from our conditioning this summer and through the winter. It has shown great dividends already with our team. We are a much stronger physical team than we were," he said.
Junior safety Darrell Brooks, who has been out for more than a week with an infection in his leg, is expected to return to practice today, but junior linebacker Randy Sims is still questionable with a similar infection in his toe.
"The guys we have out were really kind of freak injuries," Stoops said.
Stoops added that junior offensive tackle John Abramo is getting closer with his foot injury and junior receiver Biren Ealy will hopefully return for the Wisconsin game in two weeks.
Secondary without first-hand experience
The Wildcats are expected to start two cornerbacks that have no Division I experience, something Stoops isn't too worried about.
"It's exciting, it's a great challenge," he said.
Junior college transfer Kiel McDonald, redshirt freshman Wilrey Fontenot and true freshman Antoine Cason all expect to see playing time.
"These guys are very skilled. All three have practiced well," Stoops said.
He said the most important thing will be for the players not to make a big deal about it.
Heavner lone No.1 QB to start second season
Unlike last season, sophomore starting quarterback Kris Heavner will start the game and can expect to stay there the whole way through.
To start off the 2003 season, former Wildcat head coach John Mackovic switched from one quarterback to another every few series.
Heavner was named the Wildcats starter last spring and has remained there through preseason camp.


Write a Letter to the Editor