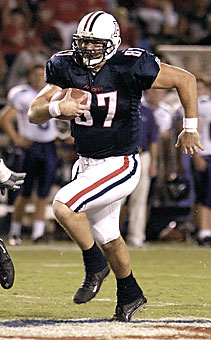 COURTESY ARIZONA SPORTS PHOTOGRAPHY

UA senior Steve Fleming is widely considered to be among the best tight ends in the nation. Fleming should expect to be the centerpiece of the Wildcat passing attack after posting 24 catches, 222 yards and nine touchdowns a year ago.

By Lindsey Frazier
Arizona Daily Wildcat
Tuesday, August 31, 2004
Print this


How senior tight end Steve Fleming's fan club plans to follow its leader straight to the NFL

Duke basketball has the Cameron Crazies.

Texas A&M has the 12th Man.

Arizona has ... the Flem Squad?

Chances are if you've attended a football game at Arizona Stadium, you've encountered the phenomenon of senior tight end Steve Fleming's unofficial fan club.

The group, originally a few childhood friends, formed to show support for Fleming, who the friends believed would be in the next big thing in Arizona football.

The Fleming File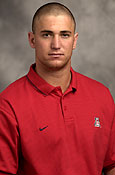 Steve Fleming
Senior tight end
Hometown: Scottsdale, AZ
Height: 6'6"
Weight: 256 pounds
2003 stats
24 catches
222 yards
2 TDs
long - 58 yards
It has since evolved into a much larger entourage, complete with customized "Fleming for Heisman" T-shirts.
"I went to Chaparral (High School) and a lot of my friends came here as well," Fleming said. "They are all sports fans and my freshman year they would all come to scrimmages. They started putting 'Fleming for Heisman' when I was a sixth-string quarterback and they would just come out and support me."
"(My friends) all just really wanted to support our friend as he made his way up the ranks of UA football - from a redshirt quarterback as a freshman to a tight end," said Adam Moskowitz, a longtime friend and recent Arizona graduate. "(He came) from a spot were he never played before, to being one of the top-rated tight ends in the nation.
"The Heisman goes to the MVP of all of NCAA football in the nation, and he's our MVP."
As for their Heisman slogan: "I think it started on the back of a Keystone box, to tell you the truth," Fleming said. "And then it went on and it became a little more serious and they'd yell down to the coaches, 'Put Fleming in.'"
After being named one of this season's co-captains following a breakout year in 2003 - Fleming started nine games and appeared in all but one en route to becoming a major part of the UA pass offense - the popularity of the group might infect the majority of the student section.
"Last year, a bunch of people were asking us for shirts, especially the people who know him and are from Scottsdale," said senior Joey Mastrilli. "It could get pretty big. If we have a good season, we could get a lot bigger."
"I ordered 60 shirts this year and we will have to make more," said fellow senior Jeff Fulks, one of the group's original members.
"It's more a gesture among friends," added Moskowitz. "We want to increase the fan support for him. We're trying to get as much support as we can."
As the group gains recognition throughout the UA campus, Fleming is becoming infamous among his teammates.
"Sometimes it's a little embarrassing," Fleming said, noting that his teammates regularly give him flak for it. "I think I am best known in (terms of) notoriety with the other players. I don't think I am the most well-known player on the team. I really enjoy the sport and it's fun to see the guys have a fun time. I don't think anyone really takes it seriously."
But maybe they should.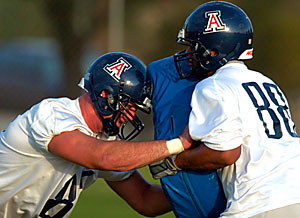 CHRIS CODUTO/Arizona Daily Wildcat
Standing 6-foot-6 Fleming, left, is an easy target for UA quarterbacks to find over the middle. His size also makes him a solid blocker as well, helping UA tailbacks break free for extra yardage or UA quarterbacks have more time in the pocket..
While the correlation between the group's growth and Fleming's statistics as a tight end is probably limited, there might be a pattern.
Fleming finished the 2003 season with 24 catches, 222 yards and two touchdowns, while the Flem Squad averaged 10 to 15 students. This year, Fleming is expected to be one of the Wildcats' top receivers and the group is hoping to carry a contingent of as many as 100 fans per game.
"I think it probably has a positive effect - to see the guys you grew up with support you," Fleming said. "They go absolutely crazy. I'll get out of the game and have three or four messages. I'm at the game and I can't pick up the phone but they'll leave me a message because I scored. When I am on my way home from a road trip, they'll listen to the whole game on the radio. I'll have a message on my phone right when I get on the plane. And they'll congratulate me on a touchdown and say, 'I'll see you when you get home.'"
"I think he knows the support is there for him and it elevates his performance," Moskowitz added.
But don't expect the Flem Squad to be as synchronized as the Philadelphia Phillies fan club, the "Padilla Flotilla," named after pitcher Vicente Padilla.
"They aren't that coordinated yet," Fleming said. "They just say 'Way to go Fleming' or 'Flem for Heisman.'"
So what's next for this group of die-hard fans?
"I'm sure it will evolve into something else," Moskowitz said. "There is only one place that Flem will be going next year, and that is the NFL."


Write a Letter to the Editor