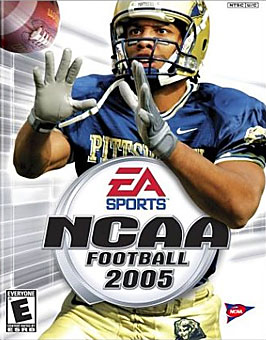 COURTESY ELECTRONIC ARTS

EA Sports' NCAA Football 2005 is available on PS2, X-Box and GameCube consoles.

By Charles Renning
Arizona Daily Wildcat
Tuesday, August 31, 2004
Print this


If the virtual world is at indicative of reality, this year's Arizona Wildcats can breathe a little easier.

Junior tailback Mike Bell and freshman cornerback Antoine Cason faced off last week in the first ever Wildcat Video Challenge, in which Cason and his virtual Wildcats shut out Bell's Arizona State squad 18-0 after play was halted midway through the third quarter.

Mike Bell as a Sun Devil?

It was a scenario to which he would soon regret agreeing.

Cason used video Bell to run for 150 yeards, including two touchdowns of over 60 yards, against Bell's ASU defense.
VS.

Antoine Cason


Mike Bell


Final Score: 18-0, Antoine Cason
"I usually don't play this bad," said Bell in disgust. "I'm playing down to my competition."
Cason capped off the game with a 77-yard touchdown run by video Bell, which prompted the real Bell to storm off the couch and quit before things got even uglier.
Bell chose ASU in order to set up a rivalry game, but regretted it after all was said and done.
He said the Sun Devils' offense didn't match up with his style of play, which is - of course - a running offense.
Cason started the scoring with a 64-yard run by video Bell, prompting Cason to ask the real Bell how it felt to bet beaten by himself.
Bell - the actual Mike Bell - threw four picks with the ASU quarterbacks and even benched Heisman hopeful Andrew Walters for his video backup, Sam Keller.
Keller finished the game with three interceptions, including two to video Kirk Johnson of Arizona, one of which was returned for a 92-yard touchdown.
"Kirk???" Bell screamed. "Damn. They made him good."
Despite Bell's complaints that his video character was much slower than he is in real life, the game mimicked other aspects of Arizona's play in recent years - namely its kicking woes.
Video Nicholas Folk lined up for a pair of extra points for Cason's Wildcats during the game, only to miss both attempts.
During the game, several Arizona coaches walked through the locker room and gave their insight into the virtual Territorial Cup matchup.
Offensive coordinator and quarterbacks coach Mike Canales walked by and asked about Arizona's virtual offense.
"What kind of offense are we running?" he asked, prying into the details of the game.
"That ain't ours," he concluded before walking out.
Receivers coach Charlie Williams also walked through and gave Bell a bit of a hard time when he ran for a 13-yard loss with ASU video-tailback Loren Wade.
"Hey, he runs like you," Williams told the tailback, laughing. "Backwards."


Write a Letter to the Editor