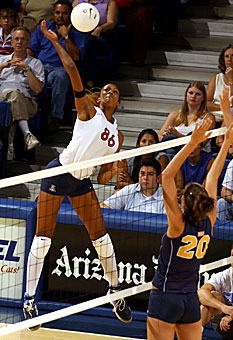 CHRIS CODUTO/Arizona Daily Wildcat

Arizona junior outside-hitter and All-American Kim Glass is likely to miss the next two or three weeks with a shoulder injury. Glass is one of 10 Wildcats nursing injuries as the team's season is set to open tomorrow.

By Lindsey Frazier
Arizona Daily Wildcat
Tuesday, August 31, 2004
Print this


With the Arizona volleyball team's season opener at San Diego State just a day away, the Wildcats have already weathered their share of bumps and bruises.

The sorest spot on the team may be the loss of junior outside hitter and two-time All-American Kim Glass, who is suffering from a shoulder injury. Glass received a cortisone shot and is expected to miss two or three weeks.

"I'm not allowed to talk too much about it right now other than it's a shoulder injury," said UA head coach Dave Rubio. "She will be re-evaluated after two weeks and at that time (we will) see how much she can start doing overhead. But right now, it looks like she is going to be doing some rehab for the next couple of weeks. We just hope (the cortisone shot) can help reduce some of the inflammation in the shoulder and give it a few weeks for that to take effect and also to strengthen the shoulder."

But no one understands the gravity of her injury more than Glass herself.

"I haven't torn anything, it's an impingement. It's going to be irritating and it's just horrible pain," said Glass, who is seventh all-time at Arizona in career kills with 1,206. "It's hard for people who are injured to stay leaders and stay motivated and excited about playing because it's so hard when you are frustrated."

2004 Season Opener
Arizona Wildcats

vs.

San Diego State Aztecs
Wednesday
7 p.m.

---
San Diego
Unfortunately for the Wildcats, the injuries don't stop with Glass but have spread to the majority of the team.
"We counted - out of 17 players on the team - six of them are healthy, so we figure 11 of them are limping along at some point," said Rubio. "Although Bre (Ladd) now is 100 percent and it's a matter of her getting used to her shoulder and hitting the ball like she should. So maybe seven out of the 17.
"So we have 10 kids who are still hurting a little bit," he said. "We didn't find out about Kim until yesterday and obviously that shakes up the lineup.
Regardless of their health problems, the Wildcats remain optimistic that timing will work to their advantage.
"The hope is that we start recovering from each of these and that this our lot for the season - to be injured early and hopefully recover and be healthy by the end of the season," Rubio added. "But there's no guarantees that someone else isn't going to go down. You just hope for the best."
With the absence of Glass both in terms of leadership and offensive power, the team will now look to some of their other athletes to fill the void.
"I think in the long run it's going to be better for us with Kim being out for a couple of weeks," said Rubio. "It's going to be good for the team and individual players to develop our team in other areas. Kim tends to cast a pretty large shadow. We tend to rely on her sometimes too much offensively, so now we are going to have to spread that around a little bit and encourage others to step up."
Despite the collective injuries of the team, Glass is confident that they can work through them and maintain a successful season.
"I think that we kind of want to get on the court and play and you really don't think about your injuries too much," Glass said. "Practice is a little slower and you are like 'ow.'"


Write a Letter to the Editor