Arizona Daily Wildcat
Tuesday, August 31, 2004
Print this


Mike Stoops

head coach

Last job: Oklahoma defensive coordinator/associate head coach

Stoops is entering his first year as head coach in any program. He takes over a Wildcat team that finished a school-worst 2-10 last season. Though he hasn't yet coached a game, Stoops has already brought excitement to the Tucson area. He has coached at Iowa, where he played collegiate football, Kansas State and Oklahoma. In that time, he has always worked on the defensive side of the ball.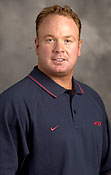 Mark Stoops
defensive coordinator/secondary coach
Mark Stoops
defensive coordinator/secondary coach
Last job: Miami defensive backs coach
Mike Stoops followed the lead of his older brother Bob when he hired his younger brother as his defensive coordinator. Mark Stoops was co-defensive coordinator for one year in Houston and has spent the last three years at Miami, where he won a national title with the Canes in 2002.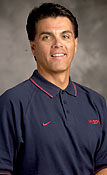 Mike Canales
offensive coordinator/quarterbacks coach
Mike Canales
offensive coordinator/ quarterbacks coach
Last job: New York Jets wide receivers coach
Canales will be the Wildcats' 2004 play-caller. He's widely regarded as one of the top quarterback coaches in the nation. ESPN's Kirk Herbstreet listed Canales as one of the 10 best offensive minds in college football, and Canales aided the development of the NFL's fourth overall pick from August's draft, Phillip Rivers from North Carolina State.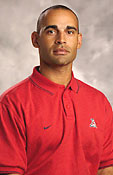 Kasey Dunn
running backs coach
Kasey Dunn
running backs coach
Last job: Texas Christian cornerbacks coach
Dunn brings some Pac-10 familiarity to Stoops' staff. Dunn worked for five years at Washington State under former Cougar coach Mike Price. He worked as running backs coach, special teams coordinator and assistant head coach. He will draw the job of developing junior Mike Bell into one of the nations best backs.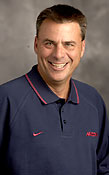 Tim Kish
linebackers coach
Tim Kish
linebackers coach
Last job: Indiana defensive coordinator/ linebackers coach
Kish is the most seasoned of all the staff, with 29 years of coaching under his belt. He has experience as a defensive coordinator at two Big Ten schools in addition to Indiana. Kish has coached several different positions, including quarterback, defensive line and linebacker.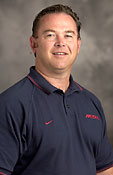 Joe Robinson
special teams coordinator/defensive ends coach
Joe Robinson
special teams
coordinator/defensive ends coach
Last job: special teams coordinator at South Florida
Robinson has had a wide variety of experiences during his 16 years of coaching. He worked the last two as special teams coordinator for South Florida and Houston. He has also spent a good deal of time as a recruiting coordinator, which should add to the recruiting process for the Wildcats.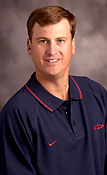 Steve Spurrier Jr.
tight ends coach
Steve Spurrier Jr.
tight ends coach
Last job: Washington Redskins' wide receivers coach
Spurrier's dad was one of the bigger coaching names in college football before He made the jump to the NFL. He has worked at two of the largest college programs in the nation, spending time at both Florida and Oklahoma under Bob Stoops.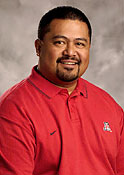 Mike Tuiasosopo
defensive tackles coach
Mike Tuiasosopo
defensive tackles coach
Last job: Utah defensive tackles coach
Tuiasosopo is another well-known football name on the 2004 Arizona coaching staff. Five members of his family have played at the professional level, including his nephew Marquese, who played at Pac-10 rival Washington in the late 90's. Mike has coached Tuiasosopo defensive line for the last eight seasons at two different schools.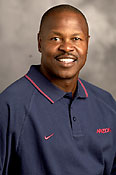 Charlie Williams
wide receivers coach
Charlie Williams
wide receivers coach
Last job: South Carolina receivers coach
Williams is another one of Stoops' coaches with NFL experience, as he spent six years with the Tampa Bay Buccaneers. Williams also spent time at the University of Miami and was on the coaching staff of the team Arizona beat in the 1994 Fiesta Bowl 29-0. He went to high school at Long Beach Poly and has some good connections in the L.A. area, which should help the Wildcats' recruiting.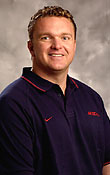 Eric Wolford
offensive line coach
0
Eric Wolford
offensive line coach
Last job: North Texas offensive line coach
Wolford has coaching experience on both sides of the football. He has worked at Kansas State, South Florida, Houston and North Texas in just 10 years of coaching and is one of the younger coaches on staff.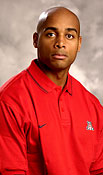 Corey Edmond
head strength and conditioning coach
1
Corey Edmond
head strength and conditioning coach
Last job: Oklahoma assistant strength and conditioning coach
Edmond was the coach who made the most immediate impact on the Wildcats. He spearheaded the offseason workout sessions and summer lifting programs. Edmonds is another Sooner transplant, working at Oklahoma since 1999.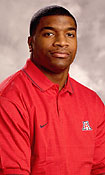 Mark Hill
assistant strength and conditioning coach
2
Mark Hill
assistant strength and conditioning coach
Last job: Oklahoma assistant strength and conditioning coach
Hill came over from Oklahoma with Edmond and has worked closely with him on Arizona offseason strength. Stoops has said it will be important to get stronger as a team, and Hill will play a major role in doing so. With only five years of coaching experience under his belt, Hill is another young coach on staff.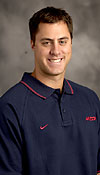 Kevin Patullo
offensive graduate assistant
3
Kevin Patullo
offensive graduate assistant
Last job: offensive graduate assistant at South Florida
Patullo will work with the Wildcat offense while taking graduate classes as part of the GA job. He played under Canales at South Florida in 2000 before moving on to a GA position with the Bulls.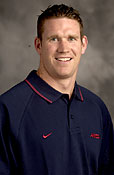 Travis Ochs
defensive graduate assistant
4
Travis Ochs
defensive graduate assistant
Last job: defensive graduate assistant at Florida
Ochs was a four-year starter at Kansas State as a linebacker and was a team captain his final two seasons. He played under Mike Stoops when he was defensive coordinator with Kansas State from 1996-98.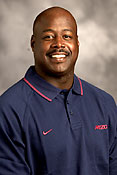 Erick Harper
director of football operations
5
Erick Harper
director of football operations
Last job: Kansas State athletics department
Harper is in charge of the daily activities of the Arizona football program. He spent 14 years working in some capacity at Kansas State before joining the Wildcats. Harper also worked with Stoops during his time at KSU.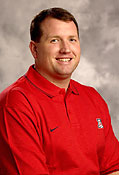 Dan Berezowitz
recruiting coordinator
6
Dan Berezowitz
recruiting coordinator
Last job: Arizona recruiting coordinator
Berezowitz is the only member of the UA staff who remained after last years' coaching departures. He will oversee all recruiting duties and has already made a major impact, getting 15 students to verbally commit to Arizona for next year.


Write a Letter to the Editor