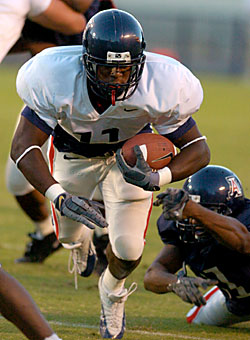 CHRIS CODUTO/Arizona Daily Wildcat

Junior running back Mike Bell will be counted on to carry much of the workload this season as the Wildcats try to better last year's win total of two.

By Charles Renning
Arizona Daily Wildcat
Tuesday, August 31, 2004
Print this


Junior tailback Mike Bell is ready for more carries, more wins and for his chance to shine in the spotlight

It's been two years since Mike Bell scored his first touchdown in an Arizona uniform, and even some of his teammates can recall the first time he hit paydirt.

"I remember his first touchdown. They ran the ball to my side and Mike ran in from like 20 or 30 yards." said senior offensive tackle Brandon Phillips. "He turned around and he had this little kid grin. Since then he's grown up a little bit, but he still has that same excitement."

Three years ago Bell hit the Arizona campus as a wide-eyed freshman, grinning ear-to-ear with excitement at the chance to play big-time college football.

He'd earned Arizona High School Player of the Year honors and was stepping into the shadows of Pacific 10 Conference rushing champion Clarence Farmer.

Bell redshirted his freshman year, but spending time on the scout team didn't squash his passion for football.

The Bell File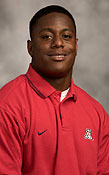 Mike Bell
Junior tailback
Hometown: Scottsdale, AZ
Height: 6'1"
Weight: 256 pounds
2003 stats
168 carries
920 yards
6 TDs
long - 69 yards
"It's always hard when you come in behind someone who is a great player, but that's what has helped me," Bell said. "I learned a lot from Clarence. It humbled me as well as made me a better player."
Bell stepped in the next season and led Arizona in rushing with 341 yards on 106 carries and that lone first-season touchdown.
Now, after vaulting himself to the top of the list of Pac-10 tailbacks, Bell is ready to better his totals from a year ago, when he again led the Wildcats in rushing and finished third in the Pac-10. He finished just short of 1000 yards, with 920 on the season.
Phillips said Bell compares nicely with some of the backs he's been around during his time in Tucson.
"Ever since I got here we've had world-class backs," he said, including Bell.
When Phillips - about to start his sixth season at Arizona after receiving a medical redshirt this offseason - arrived in Tucson, Trung Canidate was the incumbent back. Canidate was drafted by the St. Louis Rams and later played for the Washington Redskins. Next, Larry Croom saw time before transferring to UNLV, where he led the Rebels in rushing two years in a row. Croom is currently a member of the Arizona Cardinals. Croom finally gave way to Farmer, who was picked up as a free agent by the Seattle Seahawks in the offseason.
Bell's passion for the game is what makes him stand out, Phillips said.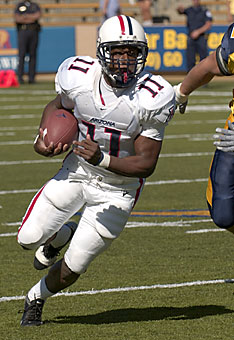 PHOTO COURTESY ARIZONA SPORTS PHOTOGRAPHY
Bell, who rushed for 920 yards in just 10 starts a year ago, is the Pac-10's leading returning running back from 2003. With former 1000-yard back Clarence Farmer gone to the NFL, Bell is the clearcut No. 1 tailback for the first time entering this season.
"Mike really loves to play and loves football," he said. "He's a coach pleaser and a team pleaser. He wants to do whatever it is that needs to be done. That's one thing I've always liked about Mike."
One of Bell's weakest areas has arguably been his ability to catch the ball. He added just six receptions last year and his receiving skills became a main focus of the offseason.
Offensive coordinator Mike Canales said he worked extremely hard on catching the football this spring and summer.
"That was his one weakness coming into the spring, but I don't see it as a weakness anymore," he said. "He's going to be a very versatile back, an all-around back."
Head coach Mike Stoops has made no secret that Mike Bell will be the focus of the offense because of all of the talent he brings to the table.
Bell said he's anxious for his role as the feature back and welcomes the added pressure of being the go-to guy.
"I like having the ball in my hands," Bell said. "It's gonna be great, especially with the offense around me."
"He's very skilled in everything he does. He can catch the ball as well as run the ball," Stoops said. "He's got great speed, great strength. He blocks. He does a lot of little things. He's a fabulous player."

I've just got to do whatever it takes to help this team win. It's something that I've been wanting for a while, since I've been here.

- Mike Bell

Canales had equal praise for the second-team All-Pac-10 running back.
"Mike has some very special talents and is definitely one of the top backs in the country, not just in the Pac-10," he said. "He's got the ability to make people miss; that's probably his biggest talent."
In addition to carrying a big chunk of the offensive load, Bell has added an all-around leadership role to his repertoire.
"The role that he is in brings the natural ability as a leader," Canales said. "People will expect so much from him and people will look at him. It's his role now to step up and be vocal and be a leader."
Leadership is something Bell has embraced.
"I've just got to do whatever it takes to help this team win," Bell said. "It's something that I've been wanting to do for a while, since I've been here."
Prior to the team's final preseason scrimmage, Bell was named one of the six team captains by his teammates and coaches, something he had been working towards every year at Arizona.
"Mentally I've matured. I'm able to take more stuff in, be more content with my situations, not take anything for granted and make the best out of every situation because in the end everything turns out good."
If Bell can continue his trend of steady improvement each year, this season should turn out better than the last two for the Wildcats, and it will be the fans - not just Bell - wide-eyed and grinning from ear to ear.


Write a Letter to the Editor