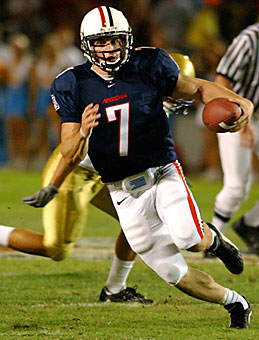 CHRIS CODUTO/Arizona Daily Wildcat

Nic Costa's breakaway speed has allowed him to shift his focus away from the quarterback position this fall. Along with taking snaps under center, Costa has lined up at tailback and wide receiver for new UA offensive coordinator Mike Canales.

By James Kelley
Arizona Daily Wildcat
Tuesday, August 31, 2004
Print this


Speedy, strong junior quarterback adds receiving, running to his repertoire

During preseason training camp it became official: Junior Nic Costa traded in his protective non-contact red jersey for receiving gloves and a new nickname.

Costa, who came to the UA a highly touted quarterback, should expect to see time this season lined up at quarterback, receiver and running back. He's been called "slashback" and "blurback" by the media, but "slash" has caught on with the coaches.

"The coaches call me 'slash' and all the other names," Costa said "Almost anything they can think of."

Offensive coordinator/quarterbacks coach Mike Canales said Costa has done well so far with the move, improving on blocking, which was considered his Achilles heel during early workouts.

"Yeah, his nickname is 'the slash.' He can play quarterback, running back, receiver," Canales said. "He's even doing a pretty good job of blocking, so I said to him, 'If you're not careful, coach (Eric) Wolford is going to put you on the offensive line.'"

Costa, who started last season at No. 1 on the Wildcats' quarterback depth chart, eventually took a back seat to the current starter, sophomore Kris Heavner. But, as Costa was one of the strongest and fastest players on the UA team, the coaching staff quickly realized it needed to get the Aloha, Ore., native on the field, even if Heavner had a stranglehold on the quarterback job.

"He's one of the top five or six players on the team in terms of athletic ability. I bet he is in the top three fastest kids on the team and it would be crazy for us to not have him on the field somewhere, somehow," Canales said. "We have to get him on the field, whatever position it is."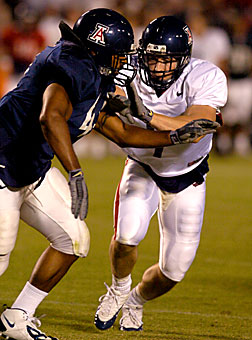 CHRIS CODUTO/Arizona Daily Wildcat
Considered to be his Achilles heel during his attempt to switch positions, Nic Costa's ability to block for All-Pac-10 tailback Mike Bell may make the difference in whether he can successfully convert to wide receiver from the quarterback position.
During Arizona's narrow 24-21 loss to UCLA at Arizona Stadium last year, UA coaches inserted Costa into the lineup late in the game, hoping his shifty moves would translate into an opportunity to pull off the come-from-behind victory. Costa broke free for a 43-yard run late in the game and was a shoestring tackle away from winning it for the Wildcats.
"He's getting better at receiver, showing some flashes that he can play receiver. I think that he'll be able to do it," said sophomore quarterback Ryan O'Hara, who played receiver for the UA against Arizona State last year. "I think it is a good move. He's fast, quick and he can make some plays."
While it was speculated Costa would try to avoid a position change and keep trying to win back the top signal-caller job, he said he now likes going the slash route.
"Well, it's fun, and I just want to get the ball in my hands, whether I'm playing receiver or quarterback or running back," Costa said. Whatever I've got to do to get the ball in my hands. So it was nice to get out there and run some routes, catch the ball a few times and fool around."
Costa's a regular Pac-10 All-Academic honor selection and in high school attended the prestigious Elite 11 quarterback camp in Southern California.
"I think he understands his role, where he is going to help us out" Canales said. "Whether it is at receiver or quarterback or in the backfield, he's accepted it and I think he is enjoying it now and feels like there is some pressure off him. He doesn't feel like he has to make all the great decisions at quarterback and understands that he will have a big role in the offense and in different places."
Last year, despite being limited to a series in the second and fourth quarters and some goal line situations after losing the starting the quarterback job, Costa tallied 463 all-purpose yards. He passed for 362 yards and had a 91.59 pass efficiency rating.
"I think, and the coaches probably think, I've improved a lot, knowing how to run routes and knowing where to make my breaks and doing all that sort of thing," Costa said. "Just the feel of it is coming along more and more."
While Heavner, O'Hara and freshman Richard Kovalcheck will run the UA's regular offense, Costa will have his own set of plays when he lines up behind the center.
"It's kind of different; I don't really work for reps at the quarterback position we have right now," Costa said. "We have Kris and Ryan and Rich; they're working the base offense. But I have my own type of offense for the quarterback position."
Whenever the speedy Costa gets on the field, his coaches and teammates know the defense will have to focus on him.
"They have to respect a lot of trick plays and they have to prepare for a lot of stuff like that because he played quarterback, so he'll be multi-dimensional for us," O'Hara said.
At 5'11" even if he does start at quarterback, Costa's chances to play in the NFL probably lie in another position. Canales even went as far to say that Costa reminds him of a popular receiver for the New York Jets.
"I think he realized that he will be a guy who will probably have to go to receiver, play in that slot ... He looks exactly like Wayne Chrebet; he's got the same features, got the same strengths. Wayne was very fast, very quick, really strong," Canales said. "(Costa) is built just like him, I could see him; being a Wayne Chrebet at the next level."
Canales should know - he was the Jets' receiver coach last season.


Write a Letter to the Editor