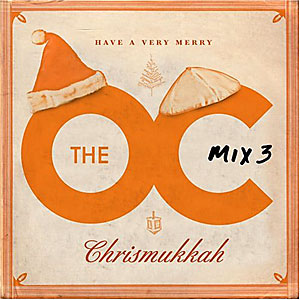 Music from The O.C.: Mix 3
9 out of 10

Arizona Daily Wildcat
Wednesday, December 8, 2004
Print this


It's difficult to pinpoint the most horrifying thing about Music from The OC: Mix 3, Have a Very Merry Chrismukkah!

It's a toss up between a vomit-worthy Jimmy Eat World cover of George Michael's even vomit-worthier "Last Christmas," and the letter included inside the album from the show's music supervisor. An excerpt: "I'm sure that every O.C. fan can relate to the very real love and affection I have for the characters on 'The O.C.'"

A "very real love?" Can't "O.C." fans get away with simply enjoying the show for its absurd insistence that the remarkably hot, "nerdy" character, Seth Cohen, is just a regular kid, like most of today's remarkably hot high school nerds are.

Just as it might seem difficult for those of us not living in halfway homes to have a "very real love" for television characters, it's even harder to stomach much of anything on this album. While the Long Winter's "Christmas with you is the Best," and the Eel's "Christmas is Going to the Dogs" are bearable, most of the album is filled with cheesy, "let's light a candle on my menorah and then make out in the pool house" offerings from the Raveonettes and Rooney.

So tonight, when you're tucked into your bed, drifting off to sleep and excitedly thinking of all the gifts you may receive this holiday season, you'll catch yourself and shed a single tear when you remember what the holidays are really about – Chrismukkah, a fictional holiday created by the characters on Fox's "The O.C.."

- Elizabeth Thompson
Holly Golightly - Slowly But Surely
8 out of 10
If you thought rock 'n' roll had its place in America, then it is time to expand your horizons and experience what England has to offer. Garage Rock icon Holly Golightly began her career in 1991 as a member of Thee Headcoatees, getting familiarized with the scene and making acquaintances with Billy Childish and Dan Melanchoir, who she collaborated with at one time or another and produced some brilliant recordings.
Then, in 1995, she released her first singer/songwriter album, The Good Times. Thirteen years and an equal number of albums later, Holly Golightly is still ripping up the scene overseas and in the States, where she is currently on tour in support of her new album Slowly But Surely, which is a good introduction for inexperienced listeners and an old familiar sound for Golightly veterans.
Holly's voice rivals the rockabilly past of Nancy Sinatra and holds all the intrigue and seductiveness of a woman experienced in love. Her sound is a salute to old-time blues musicians and folksy rock 'n' roll. Listening to the tracks slowly but surely ramble off the album and inscribe themselves on your heart permanently is a gratifying experience, similar to the way that one takes solace in hearing another person's grief. Holly's songs are tender and dreamy without the staple of being cheesy or sappy.
Her lyrics are at times playful, but there is a consistency in her music that begins to surface after a few listens. At least one line from each song deals with scorned love or death: "Your love is a lie;" "how do you live this lie;" "See if I care at all;" "We'll be dead before we're through;" "I'm tired, I'm bored, and it's best in the long run;" etc.
These ballads of lost love are crucial to the album and to Holly's sound. They make her music so interesting to listen to and separate her from the other heartbroken souls out there.
- Dan Shapiro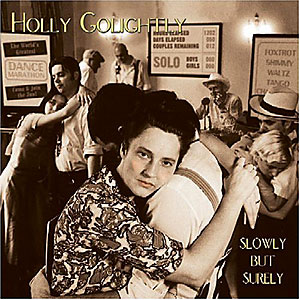 Beans - Shock City Maverick
8 out of 10
Beans, a solo underground hip-hop artist who was once enlisted in the ranks of mind-expanding beat breakers Anti-pop Consortium, is music to start your day; like the marshmallows in your cereal or the rum in your cola.
Not unfamiliar with big-name artists, Warp Records distributes albums by Vincent Gallo, Aphex Twin, Boards of Canada, !!! and Squarepusher, so when golden child MC Beans put out his new album, Shock City Maverick, you know there's going to be a little electronica mixed in. Don't fear. Beans is not without razor-sharp lyrics and intelligent wordplay on all 13 tracks. Beans blasts off on "Papercut" urging the listener to "turn it up...move your body, and clap your hands." By the time you're knee-deep into the album, you're benefiting from the GRE-raising vocabulary that "Death By Sophistication" and the bombastic bass track "Down By Law" provide. As if that wasn't enough, the last track on the album "Diamond Halo Grenade" employs all of Beans' talents wrapping up an already well-packaged and nearly impossible to open album. (It was all sticky with Beans' love.) If you're not familiar with Beans, he is constantly on tour with such bands as The Unicorns, Out Hud, Perfuse 73, Carlos from Interpol and The Rapture, where he did a complete a capella set that blew minds and turned many a listener into devoted fan. Beans' raps with raw talent and moves to beats unimaginable to the human mind. If he wasn't such a robot with his beats and precisely calculated vocal styling, he probably wouldn't be able to melt his competition.
- Dan Shapiro


Write a Letter to the Editor