Thursday, January 20, 2005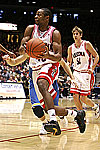 UA looks to dismiss upstart Ducks
Oregon natives Stoudamire, Rodgers eager to silence fans
The No. 13 Arizona basketball team travels to face Oregon today at McArthur Court in Eugene, Ore. at 4 p.m.
While the Ducks are off to a good start at 11-3 (3-2 Pacific 10 Conference), this game means more to two UA players. Junior guard Chris Rodgers and senior guard Salim Stoudamire both hail from the Portland, Ore. area and both are eager to play in front of friends and family. [Read article]




Women's Hoops: Freshman ignites fire under Cats
Whisonant gives Wildcats quick spark off bench
Ask anyone affiliated with Arizona women's basketball to describe the role of freshman guard Ashley Whisonant and you'll hear the same response.
"My coach basically tells me that I'm a spark off the bench," said Whisonant, a native of Bowie, Md. "I bring in energy and defensive presence."
Whisonant enforced that point in Arizona's 84-73 upset over then-No. 19 UCLA Sunday, when the freshman contributed a career-high 17 points and one blocked shot in 22 minutes off the bench. [Read article]




Women's Hoops: Wildcats look to rekindle McKale mojo vs. Oregon
The Arizona women's basketball team (12-5, 4-3 Pac-10) looks to take back its home court dominance and start another winning streak tonight at 7 as the Wildcats take on Oregon in McKale Center.
After defeating Washington State, 69-50, on Saturday to win their third consecutive game, the Ducks (12-4, 5-2) sit third in the Pacific 10 Conference while the Wildcats are fifth behind UCLA.
"They're a team that has struggled a little bit because of injuries," said UA head coach Joan Bonvicini. "They're best player, Catherine Kraayeveld, hasn't played in Pac-10 games in the last couple of years and she's a great player. She's 6-foot-3 and can go inside or outside. They have one of the best point guards as far as assists go in Corrie Mizusawa." [Read article]



Staff Picks: Weekend matchups
Michael Schwartz
staff writer
Amanda Branam
staff writer
Kyle Kensing
staff writer
[Read article]



Commentary: Bush could benefit UA athletics
In Washington, D.C., today, George W. Bush will be sworn in as president in the 55th presidential inauguration, and UA sports could benefit in the next four years as a result.
How, you might ask?
It's very simple, really. In his 2004 State of the Union address, Bush called for Major League Baseball to reform its drug testing policy.
Lo and behold, league owners and the players' union have done just that, less than a year later. [Read article]




showAds('bigbutton')?>






showAds('mediumbutton')?>

showAds('wildlinks')?>