Friday, January 21, 2005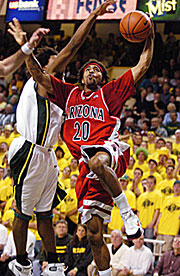 The Arizona Men's basketball team used another high-scoring night by senior guard Salim Stoudamire and a big first half to down Oregon 74-66 in Eugene, Ore. last night.
The No. 13 Wildcats (15-3, 5-1) outscored the Ducks 42-29 in the first half, using a 16-0 run midway through to distance themselves in the opening half.
Stoudamire scored 20 of his game-high 27 points in the first half, going 5 of 8 shooting, making all three 3-point attempts and shooting a perfect 7 for 7 from the line. [Read article]

·
Women's Hoops: Ducks no match for Wheeler, Wildcats
·
Senior Johnson takes final shot at ASU for Gymcats
·
Icecats try to stop surging Sooners at home
·
Cats return to home court to face Davis, NAU
·
Swim, dive teams take on Cal, Stanford
·
Track and field to tango with rivals ASU, NAU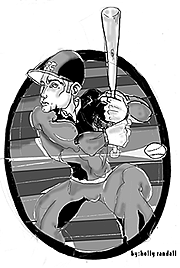 We all face competition as we strive for success in our careers, but few face anything close to the challenge of succeeding in professional athletics. According to the NCAA, about 1 percent of high school baseball players will play professionally. Facing such long odds, it's not hard to understand why so many young men turn to performance-enhancing drugs.
Different sources say different things about the effectiveness and danger of steroid use, but recently the most prominent examples send a clear message: steroids work. In the past few months, leaked grand jury testimony and personal admissions revealed that Jason Giambi (whose current contract is worth $120 million), Gary Sheffield (who finished second in MVP voting) and Barry Bonds (the likely all-time home run king) have used illegal performance-enhancing drugs. Of course, not every player that uses the drugs is successful, and not every successful player uses drugs, but those who do gain an advantage over those who don't. [Read article]

·
Race, rhetoric and the Cosby crusade
·
Mailbag
Latest Issue: January 20, 2005

require('/home/webby/html/papers/98/polls/current.php')?>

showAds('bigbutton')?>






showAds('mediumbutton')?>


showAds('wildlinks')?>