Friday, October 22, 2004


College, now and then
In honor of Family Weekend, we asked our columnists: "How do you think college life in your parents' time differs from life in college now?" Our columnists weigh in on the advantages and disadvantages of present-day college life.
Parties are evil now
In honor of Family Weekend, I decided to do a little extra research. So I asked the two people I trust most, my mom and dad, what college was like back then. [Read article]



Society: No serious people allowed
Are you a serious individual? Then chances are you will succeed in life, but people will still hate you for being serious. For as long as there has been light, there have been serious people who make happy people annoyed. Serious people are everywhere: some of our professors, our passionate feminists who write hate mail and most of our honors students. Life is too short to be stern and staid - cheer up, people! [Read article]



Guest Commentary: Life on the inside
It's hot out, I'm tired, there's a guy on top of a tower screaming at me and 1,2,3,4 is being pounded into my head. I'm at a marching band rehearsal and I'm here voluntarily. I've got 45 lbs. worth of tuba resting on my shoulder and the sun is beating down on my head, so you can imagine how miserable it can get. But you know what, I wouldn't have it any other way.
Marching band at the University of Arizona has been a dream come true. The camaraderie, the music, the jokes - everything except running a formation over again. I can't remember how long I've wanted to go to the UA, but I can remember how long I've wanted to be in the band. I started by wanting to play basketball for the UA, then I wanted to play football here too. But then I was at my first Band Day, and I realized what I really wanted to do here: I wanted to march with the best band in the western United States. [Read article]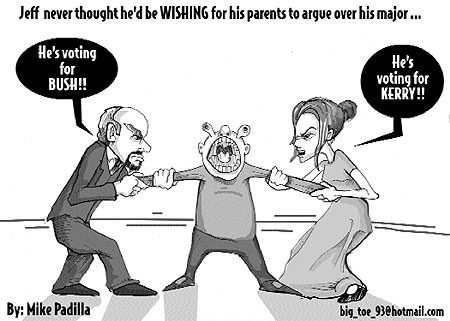 showAds('bigbutton')?>






showAds('mediumbutton')?>

showAds('wildlinks')?>