---
Sunday, March 27, 2005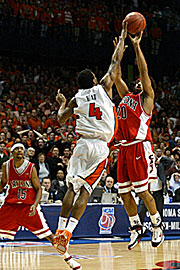 Once again, the NCAA tournament has proven that no lead is big enough, and no lead is safe, at least until the final buzzer sounds.
No. 1 seed Illinois, playing with a virtual home-court advantage just a car ride from its Champaign, Ill., campus, overcame a 15-point Wildcat lead with 4:04 left to send the game into overtime, and eventually won 90-89.
We knew we were the better team tonight, but the best team played the full game and we only played 36 minutes," UA freshman guard Jawann McClellan said.
Arizona had the final shot of the game in overtime, after junior forward Hassan Adams grabbed his eighth rebound of the game, but Adams missed a 3-point shot as time expired. [Read article]


·
Breakdown: How could the Cats' collapse happen?
---
Saturday, March 26, 2005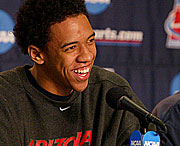 While the Oklahoma State big men were undersized during the Cowboys' Sweet 16 loss to Arizona, they were not as overmatched in height as Illinois should be Saturday, when the top-ranked Illini face the No. 3 seed Wildcats at 5 p.m. MST in Allstate Arena.
The Illini start 6-foot-10 forward James Augustine and 6-foot-6 forward Roger Powell up front, neither of whom do much with their backs to the basket.
Arizona's starting frontcourt, senior center Channing Frye and sophomore forward Ivan Radenovic will look to take advantage of the size differential even more so than in the regional semifinal. [Read article]

·
Opponent Analysis: Brown makes Illini orange tick
---
Friday, March 25, 2005
ROSEMONT, Ill. - It came down to the last shot.

Luckily for Arizona, Salim Stoudamire was there to take it - again.

The senior guard hit a jumper with just under three seconds remaining to elevate the No. 3 seed Wildcat men's basketball team over No. 2 seed Oklahoma State 79-78 last night.

With his shot, the Wildcats advance to the regional final tomorrow against top seed Illinois.

OSU forward Joey Graham scored a jumper with 19 seconds left to give the Cowboys a 78-77 lead, after a similar shot by Arizona senior center Channing Frye. Graham finished with 26 points and eight rebounds. [Read article]


·
Salim's dream still alive: Stoudamire does it again
·
Oklahoma State lets win slip away
Online Exclusive
---
Thursday, March 24, 2005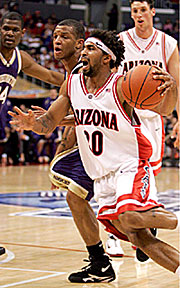 Men's NCAA Tournament . Sweet 16 . Chicago Regional

Analysts and fans alike are saying that tonight's matchup between No. 3 seed Arizona and No. 2 seed Oklahoma State easily could have been for the national championship.

Nevertheless, the Wildcats (29-6, 15-3 Pacific 10 Conference) and the Cowboys (26-6, 11-5 Big 12 Conference) meet up in the regional semifinal in Chicago at 8:15 p.m. The game will be televised on CBS.

"We are very pleased right now to be going on to the Sweet 16," Arizona head coach Lute Olson said. "We are also pleased with how our team is playing right now. I think we're playing the best that we have played." [Read article]


·
History on side of '05 seniors as UA makes last push for St. Louis
·
Opponent Analysis: Cowboys rely on toughness, experience
·
Local joints offer big fun for big games
---
Tuesday, March 22, 2005
Sophomore forward Kirk Walters has been labeled a protégé, understudy, pupil, apprentice and anything else Channing Frye seems to like.

Walters rose out of Frye's shadow and showed flashes of his own dominance Saturday in Arizona's 85-63 win over the University of Alabama-Birmingham as Frye watched from the bench, pleased that his trainee demonstrated what he has learned.

"The understudy, that sounds good," Frye said, smiling. "Protégé is a good little word for it, too." [Read article]


·
Wildcats roll to Sweet 16 with pair of double-digit wins
---
Monday, March 21, 2005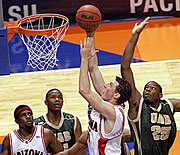 BOISE, Idaho - In reaching its fourth Sweet 16 in five years, the Arizona men's basketball team was the only No. 3 seed to make it past the first weekend of the NCAA tournament, but it wasn't by accident.

The Wildcats advanced by beating Alabama-Birmingham 85-63 in the second round Saturday and Utah State 66-53 in the first round Thursday.

The Wildcats defeated the Blazers with strong second-half shooting, stifling defense and reliance on more than their two senior stars - Channing Frye and Salim Stoudamire - to handle some of the offensive load. [Read article]


·
Cats surge toward St. Louis
·
Tech senior lead Raiders to sweet 16
·
NCAA Tournament play in McKale
---
Saturday, March 19, 2005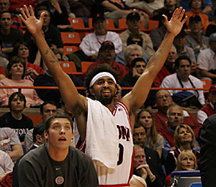 BOISE, Idaho-Another day, another first half struggle and yet another second-half outburst by the UA men's basketball team.

The third-seeded Wildcats (29-6 overall, 15-3 Pacific 10 Conference) shot 53.8 percent (14-26) after halftime to defeat Alabama-Birmingham (22-11, 10-6 Conference USA) 85-63 in the second round of the NCAA tournament and reach the Sweet 16 for the fourth time in five seasons. [Read article]


·
Analysis: Forty Minutes of Heaven
---
Saturday, March 19, 2005
·
Off-day Notes: Cats in Boise
---
Friday, March 18, 2005
BOISE, Idaho - It was a tale of two halves for the UA men's basketball team Thursday afternoon in what amounted to a road game in Boise, Idaho at the Taco Bell Arena.
After struggling to score and being down three points at the halftime break, the No.3 seeded Wildcats (28-6) raised their defensive intensity and came away with a 66-53 win over the No.14 seed Utah State Aggies (24-8).
"We picked up the defense and we put pressure on them," head coach Lute Olson said. [Read article]


·
Breakdown: Defense does it in UA win over USU
·
UAB upsets LSU in Boise; Arizona up next
Coverage From Tucson
· Bogut paces Utah in No. 18 Utes' return to Tucson
· Sooners stomp Niagara to open play in McKale
· Gonzaga doesn't let Winthrop steal slipper
· Texas Tech drops UCLA in McKale "Knight-cap" [Read article]


·
Sneakers and Sunshine just fine for Niagara, even if Cinderella's Slipper doesn't fit
·
UTEP Miner fans litter McKale, UA campus with orange and blue
---
Thursday, March 17, 2005
BOISE, Idaho. - Everything the Arizona men's basketball team has done better this year could be overturned with one game.
Last year's first round loss in the NCAA tournament still generates bad memories, and the No. 3 seed Wildcats (27-6, 15-3 Pacific 10 Conference) are determined to change those memories into more pleasant ones when it takes on No.14 seed Utah State (24-7, 13-5) in Boise, Idaho Thursday at 5:20 p.m., mountain time.
The game will be televised regionally by CBS. [Read article]
---
Sunday, March 13, 2005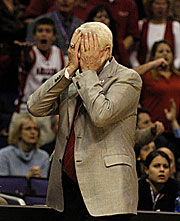 LOS ANGELES - Even Salim Stoudamire tying his career-high in points couldn't get the Wildcats a Pacific 10 Conference Tournament championship.
The top-seeded Wildcats (27-6 overall, 15-3 Pacific 10 Conference) fell 81-72 to No. 2 seed Washington (27-5, 14-4) in the tournament title game Saturday, the first time the Wildcats have lost in the championship game of the Pac-10 tourney.
Stoudamire scored 37 points, tying his career-best that he originally set on Feb. 19, 2004 in a victory at Oregon. The 6-foot-1 senior shot 12 of 20 from the floor, going 7 of 13 beyond the arc. His second 3-pointer with 9:16 left in the first half made him the top 3-point shooter in Pac-10 history. The previous record was 323, set by Steve Smith, and Stoudamire ended the game with 329 for his four-year career. [Read article]


·
Commentary: Cats drop crystal ball - potential No. 1 seed now out of reach
---
Saturday, March 12, 2005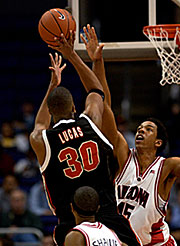 LOS ANGELES - The No. 1 seed Arizona Wildcats out-scored No. 5 seed Oregon State 50-24 in the second half to win the game 90-59 and easily move on to the finals of the Pacific 10 Conference Tournament.
The 31-point victory is a new Pac-10 Tournament record for win-margin.
The Wildcats (27-5 overall, 15-3 Pacific 10 Conference) opened the second half on a 12-0 run. They didn't allow the Beavers (17-14, 8-10) to score until OSU forward Sasa Cuic scored two free-throws four minutes into the second half. [Read article]


·
McClellan shines in sixth-man role

showAds('bigbutton')?>






showAds('mediumbutton')?>


showAds('wildlinks')?>