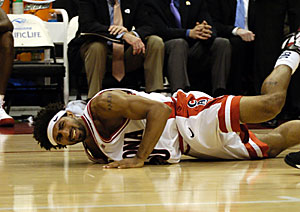 CHRIS CODUTO/Arizona Daily Wildcat

Arizona's Salim Stoudamire grimaces after tripping in the final minutes of of the second half of Arizona's championship Pac-10 tournament game against Washington, Saturday, March 12, 2005 in Staples Center in Los Angeles. Washington defeated Arizona 81-72, taking the Pac-10 Tournament Championship.

By Brett Fera
Arizona Daily Wildcat
Sunday, March 13, 2005


LOS ANGELES - The pieces were in place.

Top-ranked Illinois had been all but assured a No. 1 seed come Sunday's announcement of the NCAA tournament bracket, while No. 2 North Carolina probably doesn't need to worry much after falling to Georgia Tech - the Yellow Jackets paced by former UA guard Will Bynum's career-high 35 points - in the semifinals of the Atlantic Coast Conference Touranament.

Kentucky, barring an upset loss this weekend in the Southeastern Conference tournament was in place to be the most probable candidate for the third of four top seeds, while Wake Forest, Louisville, Arizona and Duke, among others, were in position to grab the fourth top-spot, pending the outcome of the weekend's conference tourneys.

Wake did it's part, falling Friday in the quarterfinals of the ACCs, while Louisville came within a pair of missed Memphis free-throws - the Cardinals won the Conference USA crown by the a hair - of knocking itself out of contention as well

As for Arizona, it appeared at tipoff that the Wildcats probably controlled their own destiny, needing just a win over Pac-10 No.2-seed Washington to not only win the season series, but to take both the Pac-10 regular season and tournament titles in the same year.

How rare would the latter feat have been? The Big XII, ACC, and Big East regular season champions all failed to win their conference tournaments this year, with Illinois and Kentucky still at work to secure their fates in the Big Ten and SEC.

Arizona could have been that team.

But an 81-72 loss to the Huskies in Los Angeles' Staples Center Saturday, despite a career-high matching 37 points from an unconscious Salim Stoudamire, changed everything in an instant.
"There's no question the team that played the hardest won the ballgame," said UA head coach Lute Olson after the loss, noting Washington's 41-26 advantage on the boards. "They're one of the few teams around that can send five players to the offensive boards and still get back quick enough offensively."
That's understandable, that the Huskies can do all Olson said they can.
But what about Arizona? What about the Wildcats, who, despite a top-10 ranking and probably two- or three-seed in next weeks NCAAs, now have to go back to the drawing board and figure out how they let this one slip away, with Stoudamire, the first tourney MVP to come from a losing team, burying shots from every part of the court?
"I want to be that guy that everyone looks up to," said Stoudamire, who broke the Pac-10 record 3s in a career during the game, "but at the same time you have to stay within the team concept and I thought we got away from that."
Got away from team ball? Stoudamire scored more than half of Arizona's points, connected on 46 percent of the Wildcats' field goals, and hit seven of nine UA three pointers.
"I think we need to look at the problems that we had today and learn from it," said UA senior Channing Frye, who made the all-tournament team along with Washington's Trey Simmons and Nate Robinson and Stanford's Matt Haryasz and Chris Hernandez. "(We need to) come out Monday with a chip on our shoulder."
Selection Sunday is just hours away, and the best thing for Wildcats, according to
Olson, is to just forget it all and focus on the next task at hand - the NCAA tournament's always-scary first round.
"This is just a bump in the road. We need to take from this what will help us be a better team on Thursday," Olson said, "We need to go now and take care of business in the big tournament."


Write a Letter to the Editor