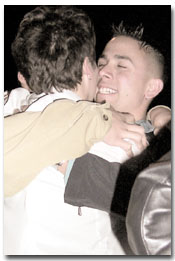 ASUA election turnout up 57 percent
Ray Quintero and Kristel Miller won the presidential ASUA primary last night in an election that saw voter turnout increase by 57 percent.
The voter turnout for this election was 2,398, compared to 1,532 last year, said Joe Rodgers, the Associated Students of the University of Arizona elections commissioner.
"Voter turnout was overwhelming," Rodgers said. "These numbers show that not only did people vote but they took the time to read the candidate (biographies) and voted for more than one person."
Quintero, a marketing junior, was ahead with 897 votes or 37.4 percent of the total. Miller, a political science and English sophomore, followed with 547 votes or 22.8 percent. All candidates for executive vice president, administrative vice president and senate advanced to general elections on March 7.
The results were announced on the UofA Bookstore steps to a crowd of about 50 candidates and supporters. This was the first time ASUA elections were done online.
Integrated Learning Center nears completion

Freshmen will have access to advising, tutoring services by August

Behind the blue slats of the chain-link fence surrounding the east end of the UA Mall, a $20 million, 100,000 square-foot structure is taking shape.

One of the University of Arizona's most ambitious building projects will provide a home base for every incoming student.

Or at least, that is the plan.

Freshmen guide Cats to win

Wildcats 22-0 after another win against W. Michigan

The Arizona softball team got a glimpse of what could be a very bright future last night as Rita Hillenbrand Memorial Stadium.

Freshmen Jenny Gladding, Mackenzie Vandergeest and Kim Balkan all played key roles in No. 2 Arizona's 9-0 victory against Western Michigan. The 65-minute contest was the second straight game in which the Wildcats defeated the Broncos due to the NCAA's mercy rule, and the 14th time overall that Arizona has ended a game early.

Rejecting the symbol of communism

Last week a committee of the New Hampshire state House unanimously killed a proposal to display a memorial plaque in the state Capitol. The plaque commemorates the rather inappropriately named Abraham Lincoln Battalion, which was a group of American volunteers who fought against Franco's forces in the Spanish Civil War from 1936 to 1939.

State Sen. Bert Cohen, D-N.H., the main sponsor of the proposal, said the plaque was necessary to honor the Battalion's "early opposition to fascism." He added, "The courage demonstrated by these brave Americans should stand as a role model for young generations to come."

Theater on the fringe

Green Thursday queer theater takes an unconventional approach to Shakespeare's 'Romeo and Juliet'

Shakespeare's "Romeo and Juliet" may be the greatest love story ever told, but it's never been told like this.

Green Thursday Theater Project, a local queer theater collective founded in December, offers a queer perspective of the classic romance with its production of Joe Calarco's "Shakespeare's R & J," opening Saturday.
Fast facts: Thursday February 1, 2001
The glue on Israeli postage stamps is certified kosher.
The housefly hums in the middle octave, key F.
Your stomach has to produce a new layer of mucus every two weeks otherwise it will digest itself.
On a Canadian $2 bill, the flag flying over the Parliament Building is an American flag.
Charlie Brown's father was a barber.
Mr. Snuffleupagas' first name was Alyoisus.