For up to the minute NCAA Tournament coverage, click here.
How Sweet It Is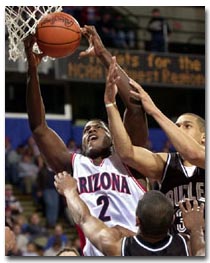 Cats advance to Sweet Sixteen after blowing by Butler, E. Illinois
KANSAS CITY, Mo. - Arizona concluded a weekend full of upsets by doing something that teams like North Carolina and Iowa State couldn't - standing pat.
Shaking the Arizona first-weekend curse of the past two years, the Wildcats outlasted Butler yesterday afternoon by demonstrating why they are a No. 2 seed and the Bulldogs were a No. 10.
While emotion seemed to carry the Bulldogs through the first half, in the end the Wildcats' strength, quickness and athleticism would spoil this Cinderella story-in-the-making.
And while so much is made of the offensive explosiveness UA possesses, it was Arizona's defense that led to a 73-52 victory and a ticket to the Sweet Sixteen in San Antonio.
"Today was one of the best defensive games that we've played throughout the season," senior forward Gene Edgerson said. "Guys were just determined to not let their man score, especially when we were down. There was a sense of urgency because nobody wanted to lose this game."
UA freshman dies in Rocky Point rollover

The driver, an ASU freshman, dies at UMC

A University of Arizona freshman, along with an Arizona State University student, died last week of injuries suffered when the truck they were traveling in rolled on a dirt road in Rocky Point (Puerto Peľasco), Mexico.

Undeclared freshman Ross Hunter White, 19, known as Hunter to his friends, died at the scene around 3 a.m. Wednesday.

The driver, Derek D. Skarecky, 19, an Arizona State University freshman, suffered serious injuries and was first shuttled to the U.S. border, then air-lifted to University Medical Center.

Skarecky died Thursday morning at the hospital, said Kate Jensen, UMC spokeswoman.

Commentary: UA gets mean, bullies Bulldogs into submission

KANSAS CITY, Mo. - It takes a killer instinct to win NCAA Tournament championships. UA head coach Lute Olson looked out on the floor yesterday and saw five Hannibal Lecters in white jerseys.

Arizona spat in the face of Cinderella yesterday afternoon, defeating an upstart Butler club 73-52 after leading by just four points at halftime. UA advanced to the Sweet 16 by playing on its strengths - size and depth - and exploiting the weaknesses of a club that had neither.

This isn't the UA team that lost to Stanford in January. This isn't even the team that beat USC by 44 points in mid-February.

This team is mean.

ASUA: promises made, promises kept?

ASUA boasts a whole new administration for 2001-2002, with a whole new set of campaign promises.

Let's hope these promises are not merely campaign-season rhetoric that the candidates spew to the UA community in order to get elected. If this set of ASUA leaders wants to prove itself to the student body, it should make its campaign goals materialize.

ASUA President Ray Quintero based much of his campaign on the goal of increasing student involvement. He and Executive Vice President Sam Chang both support moving the PULSE program to the Senate and improving its effectiveness.

Happy Birthday Bach!

AZ Bach Aria Consort celebrates musician's 316th birthday

On this date in 1685, a kicking and screaming Johann Sebastian Bach entered the world, giving his family members just a brief glimpse at the kind of musical talent of which he would soon be capable.

Now, 316 years later, the AZ Bach Aria Consort, which made it's debut concert just last season, will throw a birthday bash - complete with cake - for the famous musician tonight.

Grayson Hirst, co-founder of the Consort and associate professor of music at the University of Arizona, described Bach's music as "genius, (combining) a supreme creative power with a forceful, original inventiveness and a vivid, inexhaustible music imagination."
Fast facts: Monday March 19, 2001
The world's most common non-contagious disease is tooth-decay.
The first non-human to win an Oscar was Mickey Mouse.
Pigs can run a mile in 7 1/2 minutes.
More fatal car accidents occur on Saturday than any other day in the week.
Four thousand people are injured by teapots every year.