For up to the minute Final Four coverage, click here.
Court clarifies commissioner's power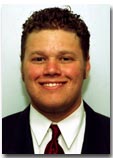 Elections head overstepped his bounds, justices agree
The ASUA Supreme Court reinstated Brandon D'Angelo's candidacy for administrative vice president because the elections commissioner didn't have the power to disqualify him, according to the court's opinion.
The Court reversed the decision made by Joe Rogers, elections commissioner for the Associated Students, because elections code does not permit the "Elections Commissioner to impose any suspension, sanction, fine or disqualification during the days of the General Election."
Rogers disqualified D'Angelo in the early morning of March 8, after he failed to comply with sanctions which he received for sending a mass e-mail to more than 4,200 University of Arizona students on the first day of general elections.
Mass e-mails are not allowed, Rogers said, and therefore D'Angelo committed a gross and negligent violation of campaign rules.
D'Angelo was ordered at 3 p.m. to stop campaigning, and had three hours to remove all campaign materials from campus. Later that night, a large banner was found at the Alpha Epsilon Phi sorority house, prompting his disqualification.
Student lobbying group plays a role in UA tuition costs

Arizona Students Association brings student concerns to state lawmakers, regents

Meeting the steadily increasing costs of attending college is a common strain on students - they are forced to combat costs with large loans, and often have no idea where their tuition dollars go.

Rarely do the letters ASA, or Arizona Students Association, come to mind when trying to piece together the tuition puzzle.

ASA - not to be confused with ASUA - is a student-lobbying organization that plays an important role in regulating tuition, and, members say, is not familiar to many students at the University of Arizona.

Midwestern roots pull Arizona home

Weather completes true basketball experience in Minneapolis

It may seem strange, but the birthplace of Arizona basketball was in the Land of 10,000 Lakes.

Though UA head coach Lute Olson grew up in the neighboring North Dakota, his collegiate basketball career and initial coaching positions were all in Minnesota.

So when the Arizona basketball team boards a flight to Minneapolis tomorrow, it will be a homecoming of sorts for Olson, who lived in Minnesota for nine years, and several of his players.

Commissioner acted appropriately disqualifying candidate

On March 7, the first day of the two-day student elections, candidate Brandon D'Angelo, through his campaign manager, sent out a mass e-mail to more than 4,200 UA students.

The e-mail detailed the administrative vice-president candidate's campus involvement, his desires for office and references to his stand-up abilities, including an endorsement from this publication.

Within hours, elections commissioner Joe Rogers appropriately found the mass e-mail to be a gross violation of the elections code - candidates were warned that mass e-mails were forbidden - and within his sound discretion ordered D'Angelo to cease campaigning, further sanctioning him to have all his campaign materials removed by 6 p.m.

Nothing personal

In these days of Web cams, "Temptation Island" and "Big Brother," the notion of privacy often seems a trifle old-fashioned. But everyone in the public eye relishes the idea of airing dirty laundry for an audience's approval.

"People talking about my personal life instead of talking about the music, stuff like that - I think it's ugly, like a miniature version of People magazine" said Tim Kasher, the singer and guitarist for indie rock band Cursive, which plays Solar Culture tomorrow at 10 p.m.

And while the Omaha, Neb. band is still a long way from the pages of America's premier gossip mag, Cursive has first-hand experience with the media circus.
Fast facts: Wednesday March 28, 2001
A baby eel is called an elver, while a baby oyster is called a spat.
Guinness Book of Records holds the record for being the book most often stolen from public libraries.
A woman's heart beats faster than a man's.
A person breathes seven quarts of air every minute.