Spring Fling attendance a downer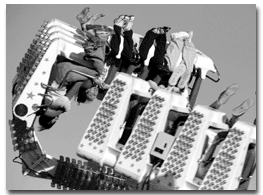 Preliminary figures show about 1,000 less people attended Spring Fling 2001 than last year.
Jennifer Olding, Spring Fling marketing director, said about 32,000 people attended the event, down from last year's record-breaking attendance of 41,000.
Olding said she was not sure why there was a decrease in attendance but cited the weather on Thursday and Friday as a possible cause.
"If we could have had four full days of good weather I would have been thrilled," Olding said.
Spring Fling directors will not know the exact attendance numbers or profit until later this week, Olding said.
UA philosophy prof says there isn't much to fear about cloning

Biological duplication can lead to medical breakthroughs, other benefits

Allen Buchanan, a UA philosophy professor, said he thinks the public has been battling with an exaggerated anxiety over cloning, but the technology that is underway to produce the first human clone cannot be stopped.

Instead, the concerns should focus on more significant issues like nuclear power or diseases that kill millions, such as AIDS, he said.

Buchanan was one of six professors to speak at the sixth annual conference on "Healing arts: medicine, ethics, humanities" on Saturday, an event organized by the UA College of Medicine to promote discussion on health care and its relation to the healing arts.

It's official: 'RJ' to NBA

After nearly a week of speculation, UA junior forward Richard Jefferson formally declared for the NBA Draft late Saturday.

While Jefferson's offensive numbers were down this season (11.3 points, 5.4 rebounds and 2.7 assists), his maturation into one of the nation's best defensive players coupled with a strong NCAA Tournament showing helped his professional stock rise.

"It has been a lifelong dream of mine to play in the NBA, and I feel like the time is right for me to go," Jefferson said in a statement released by the UA Sports Information Department. "I have enjoyed every minute as a member of this program."

Jefferson did not return phone messages left by the Wildcat.

Students deserve second vote on ABOR

On Thursday, the Arizona state Senate threw us a bone.

It approved the appointment of two students who will sit on the Arizona Board of Regents (ABOR), the all-powerful board that controls higher education in the state of Arizona.

But in this case, two is not really better than one.

Only one of these student regents has the power to vote. The other merely serves as an "apprentice" for the first year of his term before moving into the second-year voting position.

This new "apprenticeship" policy, approved by the state legislature last year, pretends to give students more representation without really doing so.

Dynamic Divas

Drag show, 'Diva La Paz,' expected to draw at least 200 people tomorrow night

University life is all about new experiences. Moving away from home, preparing for the future - and learning more about transvestites.

The performers of "Diva La Paz," an annual show held at La Paz residence hall, are the highlight of the show, and rightfully so. Dressed in drag, these talent-laden queens generally attract a large audience.

"Last year, there (were) about 200 people," said Vanessa Stedronsky, a chemical engineering sophomore and one of the program's coordinators. "We're expecting just as (many) this year."
Fast facts: Monday April 9, 2001
$203 million is spent on barbed wire each year in the United States.
$26 billion in ransom has been paid out in the United States in the past 20 years.
7.5 tons of gold is used each year in the United States to make class rings.
97 percent of all paper money in the United States contains traces of cocaine.
Because of its size, the Pentagon operates much like a small city; it has its own shopping mall, bank, power plant, water and sewage facilities, fire station, police force, fast food restaurants and mayor.
Christmas became a national holiday in the United States in 1890.
Washington, D.C. is the city with the highest per capita viewership of television evangelists.