Nichols' memory honored at Capitol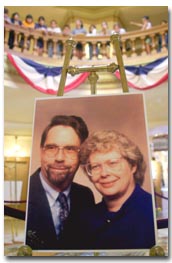 500 colleagues, friends celebrate senator, UA prof in Phoenix
PHOENIX - More than 500 colleagues, friends and family turned out at the State Capitol yesterday for a memorial service to honor Sen. Andy Nichols, a legislative champion for public health and long-time University of Arizona professor.
"We will be forever indebted to Sen. Nichols," said Gov. Jane Hull. "He was a man who truly left this world having given more than he took."
Nichols, a Tucson Democrat, died Thursday after collapsing in his Phoenix office. He was 64.
Issue of the week: Going Global
Recently the GAP clothing store corporation has made efforts to improve working conditions in San Salvador, Mexico.
According to The New York Times, GAPās efforts have increased wages of factory workers an estimated 5 cents an hour, from 55 cents to 60 cents earned per hour worked.
The recent Summit of the Americas compelled protesters, 10 of which were UA students, to speak out against big businesses.
Globalization has many wondering which direction American business ought to take. Is it wrong for businesses to manufacture goods where labor is less expensive? Or does this lead to unfair labor conditions? Itās time to speculate.
'Dedicated' UA music professor dies at 48
Stephen Paul known for his hands-on, 'cutting edge' method of teaching
University of Arizona associate music professor Stephen J. Paul died April 14 of a heart attack in Lancaster, Penn. He was 48.
He is remembered by students and faculty as a kind and gentle man. He leaves behind a 10-year-old daughter and a fiancŽe he was to marry in May.
"Steve was only here for two years, but he established himself in distinct ways in the music department," said Rob Cutietta, director of the UA School of Music and Dance.
"He was extremely dedicated to teaching - he had parties for his students at his home all the time," he added. "And he was dedicated to curriculum design. When he came to (UA) he took the department's undergrad curriculum, threw it out the window and replaced it with his own. It was unbelievable."
No. 1 UA gets a pair of 6th-inning homers to beat ASU
TEMPE-The Arizona softball team moved into the top spot in the USA Today/NFCA poll yesterday morning.
Last night at Farrington Stadium in Tempe, the Wildcats showed why.
Arizona (47-4 overall, 9-2 Pacific 10 Conference) used two of its trademark features - power and dominant pitching - to defeat Arizona State 5-0 to sweep the season series.
After struggling for the first five innings, Arizona blew open the game in the sixth, getting five runs on five hits to chase ASU starter Erica Beach from the game.
Spring cleaning, dance fever
UA dance presents array of student, faculty choreography in "Spring Collection"
Spring fever is annually noted for promoting the phenomenon known as "spring cleaning."
In the UA dance department, however, spring fever appears to have hit students with a desire to create new dance choreography.
In two separate shows with two separate casts, the University of Arizona's dance division's final season concert, "Spring Collection," will feature some of this new student choreography along with new and returning choreography by faculty members.
Fast facts: Thursday April 26, 2001
The smallest unit of time is the yoctosecond.
Each year, there is one ton of cement poured for each man, woman and child in the world.
The world's three richest people have assets that exceed the combined wealth of the 48 least-developed countries, according to a recent United Nations report on global inequality.
Two-thirds of the people in the world have not made a phone call.
A survey released by the Center for Substance Abuse Treatment suggests up to 17 percent of U.S. citizens aged 60 and older are addicted to substances. Most commonly alcohol, tobacco, prescription drugs and over-the-counter medicine.
During the Vietnam War, soldiers used Slinkies as radio antennas by stretching the coiled-up toys between two trees.
Each year, 13 people are killed by vending machines falling on them.