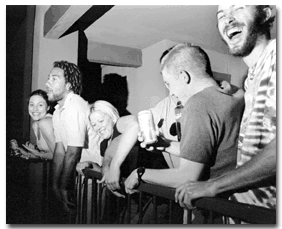 Complex "red tagged" by TPD for next 120 days
Red-stickered apartment units and poor management are contributing to UA students' dissatisfaction with living conditions at Jefferson Commons - a complex that is geared specifically toward college living.
Apartment units and UA students living in Jefferson Commons, 850 E. Wetmore Rd., are being branded with red stickers for violating city of Tucson code of ordinances section 11-140 titled "loud or unruly gatherings unlawful." The ordinance states, "An unruly gathering is a gathering of five (5) or more persons on any private property, including property used to conduct business, in a manner which causes a disturbance of the quiet enjoyment of private or public property by any person or persons, and shall be unlawful."
Light poles in front of a unit that are slapped with stickers indicate all the apartments have violated the city ordinance. Individual apartment windows, the swimming pool and the computer room have also been tagged with the neon-orange stickers.
Jefferson Commons' management could not be reached for comment.
Jennifer Hunt, a management information systems junior living in the complex for the consecutive second year, said the increase of red stickers is probably because of Tucson Police Department's stricter enforcement of drinking laws.
Two UA students beaten, one stabbed at party

Tucson Police have license plate number for the attackers' car

Three UA students were attacked at their home early Saturday morning when seven uninvited men came to a birthday party being thrown for one of the house's residents.

Arizona kills competition, ties UA record

Wildcats win 10th straight, tie school record

In sports, it is often said that a team's greatest improvement comes between the first and second matches.

Not helping with landfill clean up is irresponsible

As children, we were taught a few simple rules that have remained true throughout our lives. Among them was clean up messes you help make. That lesson, simple as it seems, has been applied many times on the international, national and local levels. The Nazi party, for example, and modern-day Germany were forced to pay for the horrible crimes they committed against more than 10 million people earlier this century. In the 1980s, Exxon (now the Exxon Mobile Corp.) spent hundreds of millions cleaning up after their oil spill off the coast of Alaska.

Giants of Cuban jazz return to UA Centennial Hall

Buena Vista Social Club in concert at UA

Renowned Cuban jazz ensemble Buena Vista Social Club returns to Centennial Hall tonight and tomorrow with an all-new show starring singer Omara Portuondo and laud player Barbarito Torres.
Quotable: Monday September 25, 2000
"Families shouldn't have to drain their wallets to drive their cars or heat their homes."
President Clinton on tapping into the U.S. emergency oil reserve
Today in history: Monday September 25, 2000
In 1493, Italian explorer Christopher Columbus set sail from Cadiz, Spain, with a fleet of three carracks and 17 caravels, on his second voyage to the New World.
In 1789, the first Congress of the United States adopted 12 amendments to the Constitution, and sent them to the states for ratification.
In 1847, after a four-day engagement, Monterrey, Mexico, was captured by U.S. forces under General Zachary Taylor, the future U.S. president.
Note from the Online Editor:
Thank you for your patience with the new site. As you can see, it is a work in progress. We are currently adding to the script, but due to time constraints and personnel changes, we ask that you bear with us.
Thank you for your support,
Ty Young, Online Editor