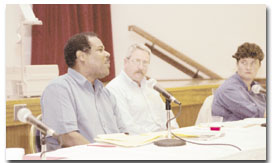 UA Speaker Series addresses race and sexuality topics during Campus Week of Dialogue
While Rudy Gaudio is against racial labeling, he said it's ironic that stereotypes have allowed him to help others.
"The construction of whiteness in this country has allowed me to assume a position of authority," said Gaudio, anthropology assistant professor.
He said this position has allowed him to defend others persecuted by racial and sexual discrimination.
A four-member panel made up of University of Arizona professors discussed the issues of race and sexual orientation at noon yesterday in the Memorial Student Union's Arizona Ballroom.
The problem is that we have to label people as gay and lesbian before we can accept them into our community, Gaudio said.
College of Medicine to add liver institute

Former Emory prof to head up new dept

With the appointment of a director, the creation of a liver institute that will perform clinical lab research is another step closer to being a reality.

Shining as a senior

UA goes for 15th win in a row

The UA women's volleyball team will crack open the Family Weekend festivities tonight when they face UCLA at McKale Center.

Approval of sex workshop disturbing

Last week, the curbs were painted.

Bright new banners were hung up.

The new parking garage opened.

We had to look good: Peter Likins was hitting up a group of VIPs for about billion dollars.

Life is Good' for artist Beverly McIver

Sky writing

Local author/photographer publishes first book based on Arizona landscape

Though the beauty of Arizona's desert landscape has many times been photographed and published, Adriel Heisey's images of the desert are different in one profound way - all his photographs are taken from the air.
Quotable: Thursday October 12, 2000
"Down with the olive branch, up with the rifles."
A banner protesting the presence of Jewish settlers in the West Bank town of Hebron.
Today in history: Thursday October 12, 2000
In 1492, Italian explorer Christopher Columbus sights Watling Island in the Bahamas, initially believing that he has found Asia.
In 1915, British nurse Edith Cavell is executed by a German firing squad in Brussels for helping Allied soldiers escape from German-occupied Belgium during World War I.
In 1968, Apollo 7, the first manned Apollo mission, is launched.