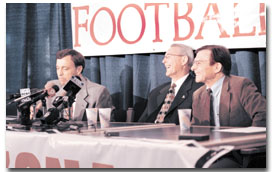 UA needs to win Rose Bowl, new coach says
The search to replace Dick Tomey took 10 days.
John Mackovic, an ESPN analyst, was hired as the University of Arizona's 26th football coach yesterday pending approval of a five-year contract by the Arizona Board of Regents.
Mackovic, 57, replaces Tomey, who resigned following the Wildcats' 30-17 loss to Arizona State on Nov. 24 after 14 years at the helm of the UA program.
Mackovic - who served as UA's offensive coordinator from 1973 to 1976 under head coach Jim Young - said he was excited to be back in Tucson.
Regents' approval expected to come out of teleconference

UA, ASU must offer similar contracts to new coaches

While the future of the UA football team is now in John Mackovic's hands, the size of his paychecks is in the regents'.

At a press conference yesterday, University of Arizona President Peter Likins and Jim Livengood, athletic director, announced that Dick Tomey's successor would be Mackovic, former Texas head football coach gone ESPN analyst.

Mackovic eyes Rose Bowl

New coach intends to fill stadium, improve offense

New UA football head coach John Mackovic has high expectations and goals now that he is at the helm of the Arizona football program.

NCAA policies strict but necessary

If we were to take a poll and ask how many students have been treated to dinner by their roommate's parents, we expect that many respondents would answer in the affirmative. For student-athletes at the University of Arizona, however, such an action would have stiff consequences, as junior forward Richard Jefferson of the men's basketball team recently found out.

When Irish eyes are smiling

Fresh off tour with the Wallflowers, Michael McDermott brings Irish folk-rock to UA Mall When Michael McDermott put out his first record nine years ago, he had stars in his eyes and a smile on his face.