'Rent' fans willing to wait for a bargain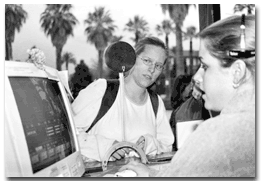 Discounted front-row tickets sell fast
UA students and other Tucsonans lined up in front of Centennial Hall yesterday eager to pay the "Rent."
"Rent," the Broadway hit making its second tour through Tucson in three years, opened last night but prime seats were still available two hours before the curtain rose, thanks to a special ticket sale put on by the show's production company.
Sixty seats in Centennial Hall's orchestra pit - the first three rows from the stage - were offered for $20 each yesterday at 5:30 p.m. Within minutes, all of the tickets were sold.
Ann Charles, along with her children David and Rebekah and their friend Tarreyn VanSlyke, had been standing in line since 1 p.m. to secure the discounted tickets.
Snow falls in Tucson, more cold weather to come

Recent temperatures far cry from last January's 80-degree

Dressed in a short-sleeve shirt and flip-flop sandals, business sophomore Jeff Velasco stood outside yesterday chatting with friends, seemingly oblivious to the snow flurries and 45-degree temperatures that had characterized the day.

However, Velasco, a California native, thought it would always be hot at the University of Arizona and was not prepared for the January chill.

Wall of Champions

New attraction to Hillenbrand honors past title teams, All-

Opponents of the UA softball team understood the winning tradition they were up against when they took the field at Rita Hillenbrand Memorial Stadium.

Now, the realization will set in well before the first pitch.

UA dropout rate above the norm

Nearly one out of every four freshmen at the University of Arizona will not return next semester.

A new study conducted by the US News and World Report estimates that the UA's freshmen dropout rate is 23 percent, much higher than other colleges with similar student populations and academic programs.

Although this dropout level appears high, it is a result of Arizona's commitment to offering higher education to as many people as possible.

Exhuming of a luxury car

Mysterious excavation photos now on display at CCP

The occupation of an archaeologist generally entails the excavation of burial remains, bits and pieces of pottery and ancient artifacts.

Now, luxury cars have made their way into this job description, said photographer Patrick Nagatani.

Nagatani, a professor at the University of New Mexico, has worked for 12 years, side-by-side with Japanese archaeologist Ryoichi, photographing the strange car excavations that are now on display at the University of Arizona's Center for Creative Photography.
Quotable: Wednesday January 17, 2001
"Every one of us either has been or will be attacked in cyberspace,"
- Mary Ann Davidson of database giant Oracle
On This Day: Wednesday January 17, 2001
In 1756, composer Wolfgang Amadeus Mozart was born in Salzburg, Austria.
In 1861, Jefferson Davis of Mississippi and four other Southerners resigned from the U.S. Senate.
In 1950, former State Department official Alger Hiss, accused of being part of a Communist spy ring, was found guilty in New York of lying to a grand jury. (Hiss, who always maintained his innocence, served less than four years in prison.)