November 14, 2002
· It's not just about Sex ... wait, yes it is
· Eerie "Weir" explores
· Running with the ╬Bevel'
· From expert to amateur: Poetry for the masses
· No spiders here: Just dance moves
· Weekend Revue
More Stories...




· Football SlideShow: John Mackovic [11.14.02]
· Fun comes home [11.08.02]
· Aerosmith
· Tucson Tailgaters
· Campus Escape
· Football SlideShow: UA vs. Wisconsin
· Football SlideShow: UA vs. NAU
· New kids on the block




November 12, 2002
· Playing with space

November 5, 2002
· Stand up and Read
· Online Exclusive: National "Sage" shares poetic wisdom

October 29, 2002
· Portrait of success

October 24, 2002
· Family Weekend Features

October 22, 2002
· Zine and Heard

Protesting the politics of oil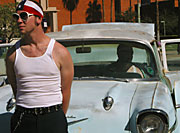 TERRI WALTZ/Arizona Daily Wildcat
Silas Hite, a fine arts studies senior, takes part in a peaceful protest against America's dependency on oil and the current situation with Iraq, while three other students sit locked in a 1957 Chevy yesterday afternoon on the UA Mall. The students could be heard saying "I will not go to war to put gas in my car," from inside the automobile. The students were protesting America's dependency on oil, the lack of focus on alternative fuel systems as well as other current political issues related to unrest in the Middle East.