Friday, April 29, 2005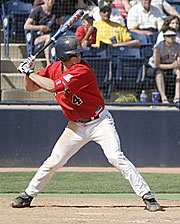 Lights, camera, baseball.
Coming off their worst weekend of the season, the No. 9 Arizona baseball team hosts No. 22 Southern California for a three-game series this weekend at Sancet Stadium with all three games being shown on national television.
The teams battle tonight at 7 on ESPNU, ESPN's new college sports channel, tomorrow at 1 p.m. on FSNA and taped delayed on FSN nationally, and Sunday at 12:30 p.m. on ESPN.
This follows a weekend in which the Wildcats (27-14, 10-2 Pacific 10 Conference) suffered their first three-game losing streak and winless weekend of the year after losing twice to UC Irvine and once at Sacramento State. [Read article]

·
Softball: No. 2 UA seeks elusive road sweep
·
Track heads up I-10 to Tempe for dual meet
·
Commentary: Forget the playoffs: Now is the time to win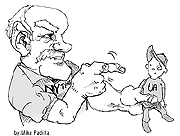 It was a study in contrasts. Standing before the student body's academic and leadership elite, Arizona women's swim head coach Frank Busch was awed by the "impressive gene pool" in attendance at the UA's annual Evening of Excellence, even as students buzzed about a Sunday article in The New York Times that caricatured our university as nothing more than a springboard for anonymity, alcoholism or worse.

In a 6,000-word inquiry into the nature of public universities, education commentator John Merrow blithely reduced the UA to a "not particularly selective" university replete with "numbing lecture halls (of) 500 classmates" and meandering students that "are, for all intents and purposes, anonymous." [Read article]

·
Mallrants: Where we give you the space to speak out.
·
Mailbag
Latest Issue: April 28, 2005
'American Dad' joins forces with 'Family Guy'
Before you go to bed tonight, pat yourself on the back for being a college student. Seth MacFarlane, creator and vocal star of "Family Guy" is in your debt ever since Fox resurrected the show this season.
"To me, the biggest audiences are colleges," MacFarlane said. "As far as the show being brought back, it was the adult 18-to-34 audience that did it and that's really the audience that we write for." [Read article]

·
Tucson and Campus Calendar
·
Demetri Martin's all smart 'n' SICK
·
Commentary: Drinking like a scientist
Art
·
Art from ashes Mount Lemmon fires inspire tree sculpture memorial
·
Writer praises Tucson, MOCA and artist
Film
·
Ass-kicking 'Kung Fu Hustle' a treat
·
Kidman kills 'Interpreter's' chances
·
So much for the afterglow
Music
·
The Sights are set on rock success
·
CD Reviews: American Hi-Fi, The High Speed Scene
Literature
·
Black's act nearly as funny in print
Latest Issue: April 26, 2005

Exploring the female orgasm: coming to the point
Her body curls and clenches with tingles of pleasure, a feeling some UA women have yet to understand or experience.
Regardless, if a woman is exploring with the different types of orgasms, masturbating, or learning how to get off without faking it, experts agree being comfortable is essential for achieving an orgasm.
Though some women may feel like a victim of orgasmic dysfunction, or the inability to climax during sex, experts said this diagnosis is rare for young women. Instead of needing medical treatment, college-aged women can usually find orgasmic relief from different methods of arousal and self-discovery. [Read article]


·
Commentary: Men and the orgasmic lie

require('/home/webby/html/papers/98/polls/current.php')?>

showAds('bigbutton')?>






showAds('mediumbutton')?>


showAds('wildlinks')?>