Tuesday, May 3, 2005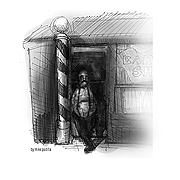 A man dressed in a powder-blue shirt and jeans squints briefly as he leans over a boy's head, studying his hair for symmetry. The boy sits in a well-worn brown leather barber's chair, fresh clippings of hair slide down a smooth cloth resembling a large plastic cape encircling his small shoulders.

The steady buzz from the electric clippers in the barber's hand hangs in the air, mixing with the chatter of several customers bickering excitedly about the future of Lute Olson's Wildcats. [Read article]

·
Mailbag
Latest Issue: April 28, 2005
'American Dad' joins forces with 'Family Guy'
Before you go to bed tonight, pat yourself on the back for being a college student. Seth MacFarlane, creator and vocal star of "Family Guy" is in your debt ever since Fox resurrected the show this season.
"To me, the biggest audiences are colleges," MacFarlane said. "As far as the show being brought back, it was the adult 18-to-34 audience that did it and that's really the audience that we write for." [Read article]

·
Tucson and Campus Calendar
·
Demetri Martin's all smart 'n' SICK
·
Commentary: Drinking like a scientist
Art
·
Art from ashes Mount Lemmon fires inspire tree sculpture memorial
·
Writer praises Tucson, MOCA and artist
Film
·
Ass-kicking 'Kung Fu Hustle' a treat
·
Kidman kills 'Interpreter's' chances
·
So much for the afterglow
Music
·
The Sights are set on rock success
·
CD Reviews: American Hi-Fi, The High Speed Scene
Literature
·
Black's act nearly as funny in print
Latest Issue: April 26, 2005

Exploring the female orgasm: coming to the point
Her body curls and clenches with tingles of pleasure, a feeling some UA women have yet to understand or experience.
Regardless, if a woman is exploring with the different types of orgasms, masturbating, or learning how to get off without faking it, experts agree being comfortable is essential for achieving an orgasm.
Though some women may feel like a victim of orgasmic dysfunction, or the inability to climax during sex, experts said this diagnosis is rare for young women. Instead of needing medical treatment, college-aged women can usually find orgasmic relief from different methods of arousal and self-discovery. [Read article]


·
Commentary: Men and the orgasmic lie

require('/home/webby/html/papers/98/polls/current.php')?>

showAds('bigbutton')?>






showAds('mediumbutton')?>


showAds('wildlinks')?>