August 23, 2005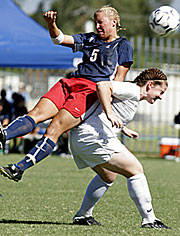 In his second year at the helm of the UA soccer team, head coach Dan Tobias turned a team that tied for last place in the Pacific 10 Conference in 2003 to the Pac-10 co-champions in 2004.
They broke or tied 31 records last season, both team and individual, and made their first trip to the postseason in the team's 10-year history.
Tobias, named the 2004 National Coach of the Year by Soccer America, sat down with the Arizona Daily Wildcat to talk about the state of his team going into the 2005 season, filling the holes left by arguably two of the best players to ever play for the Wildcats, and those pesky preseason polls. [Read article]

·
The Rover: Coach, fans thinking bowl game
·
From The Booth: See smaller UA sports for a change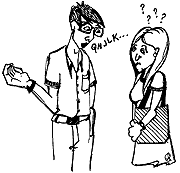 Ideally, university administrators created the position of teaching assistant in order for those graduate students to serve as the voice of the professor but on a much more abbreviated pay scale. But while they are encouraged to communicate with TAs in lieu of tracking down the professor, undergraduates are facing mounting difficulties in actually understanding international assistants.
With more foreign-born graduate students filling the coveted roles of teaching assistants, students across the U.S. are dealing with communication barriers because of different language impediments. At the UA, out of the 1,400 teaching assistants currently employed, about 25 percent are international graduate students. While this doesn't necessarily imply that all international students struggle with English, this 25 percent does indicate that the UA needs to pay special attention to assisting International Teaching Assistants (ITAs) acclimate to a new culture. [Read article]

·
Editorial: $51.6M from state would be well-spent
·
MALL RANTS
·
Note to self: Do something
Latest Issue: August 8, 2005
When people say a film is independent, this is not always indicative of a particular style or genre, but merely a limited budget and release. But in the case of "Me and You and Everyone We Know," there is no other real way to describe it. It is a quintessential independent film, and it is unlike any other.

The story for "Me and You and Everyone We Know" is original and offbeat and does not follow the conventional rules of screenwriting that most writers follow. Writer/ director Miranda July stars as Christine Jesperson, a starving artist who drives old people around to earn a living. She is struggling both artistically and romantically and is desperately trying to save her own life. [Read article]

·
Your Summer and Fall Listening Essentials
·
'Acoustic' album 10 years in the remaking
·
This Week

require('/home/webby/html/papers/98/polls/current.php')?>

showAds('bigbutton')?>






showAds('mediumbutton')?>


showAds('wildlinks')?>