August 24, 2005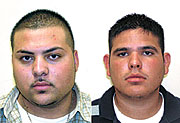 No injuries in blast near Honors College; suspects not UA students
An explosive detonated near the Honors College yesterday disrupted foot traffic on campus but caused no injuries, police said.
Two 18-year-old men, Francisco Joel Torres and Yoel S. Caballero, both of Tucson, were later arrested in connection with the explosion.
Police said the men were in a car between the College of Music and the Honors College, 1017 N. Vine Ave., about 12:30 p.m. when an explosive device was thrown from the moving vehicle, said Sgt. Eugene Mejia, University of Arizona Police Department spokesman. [Read article]

·
UApresents curtain lifts on $800K of unpaid bills
·
Admin inundated with course change requests
·
Safety Alert: Police give out whistles, urge caution and crime prevention
·
Rain damages buildings, halts Mall activities
·
Referendum must be passed for current Rec fees to continue
·
College to refine grad electronic applications
·
Campus club helps students with children balance school
·
Campus Briefs
·
Fast Facts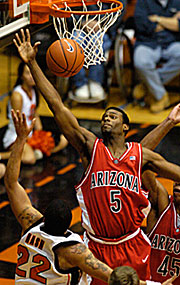 In this edition of Pastner's Notebook, the first of the fall semester, Arizona men's basketball assistant coach Josh Pastner discussed the NBA's new mandatory age limit, the merits of recruiting for four-year players and who he thinks could win the Pacific 10 Conference this season.
Wildcat: What is your opinion on the 19-year-old age limit for entrance into the NBA draft, and how does that affect Arizona basketball?
Pastner: The age limit will not affect recruiting because right now we're trying to recruit guys who are going to be here for at least a couple of years. [Read article]

·
Football tickets a hot item
·
Volleyball Notes: Wildcats eager to justify ranking
·
Wet weather doesn't deter some campus athletes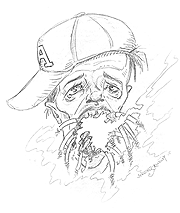 It's the job of a university to try to change people's personal habits when it comes to smoking? Some might say that the university should stay out of the individual student's personal choices, especially if they aren't doing anything illegal.
But universities and anti-smoking advocates contend that because a university is a public place it has responsibilities to all parties involved, both smokers and non-smokers. And because smokers negatively affect the health of everyone around them, their behavior should be regulated. [Read article]

·
The student union fee: Just another expense?
·
Mailbag
Latest Issue: August 8, 2005
When people say a film is independent, this is not always indicative of a particular style or genre, but merely a limited budget and release. But in the case of "Me and You and Everyone We Know," there is no other real way to describe it. It is a quintessential independent film, and it is unlike any other.

The story for "Me and You and Everyone We Know" is original and offbeat and does not follow the conventional rules of screenwriting that most writers follow. Writer/ director Miranda July stars as Christine Jesperson, a starving artist who drives old people around to earn a living. She is struggling both artistically and romantically and is desperately trying to save her own life. [Read article]

·
Your Summer and Fall Listening Essentials
·
'Acoustic' album 10 years in the remaking
·
This Week

require('/home/webby/html/papers/98/polls/current.php')?>

showAds('bigbutton')?>






showAds('mediumbutton')?>


showAds('wildlinks')?>