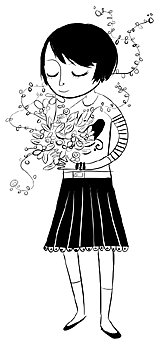 Natasha Allegri

Arizona Daily Wildcat
Thursday, January 12, 2006
Print this

A study of the common cold, made by two epidemiologists at the University of Michigan, disclosed that the incidence of colds was greater among the better-educated.
A duck's quack doesn't echo, and no one knows why.
Albert Einstein called his brain his laboratory. In science's continued search for clues to genius, Einstein's brain is being picked apart gram by gram and analyzed in a laboratory in Wichita, Kansas.
The average person is about a quarter-inch taller at night.
More than 20,000 plants are listed by the World Health Organization as being used for therapeutic purposes.
Stainless steel was discovered by accident. Various experimental alloys were thrown onto scrap heaps. In 1913, someone noticed that a few pieces remained bright and shiny amid the dreary heaps of rust. The pieces were salvaged, analyzed, and the result was stainless steel.
City with the most Rolls Royces per capita? Hong Kong.
State with the highest percentage of people who walk to work? Alaska
By making use of the energy of the recoil of a fired bullet to eject the spent cartridge and load the next, Hiram Maxim in 1884 produced the first fully automatic machine gun.
A mosquito, engorged on blood, is able to fly carrying a load twice its own weight.
The purpose of the Great Wall of China, which separates China from Mongolia, was not just to keep the Huns from attacking from the north. The Huns could easily find places along the stretch that they could scale with ladders. But they couldn't get their horses across. Without their horses, they weren't very effective conquerors.
A full 7 percent of the entire Irish barley crop goes to the production of Guinness beer.
Despite its reputation, the "man-eating" giant clam of the South Pacific Ocean, which grows to more than 4 feet across and can weigh a quarter-ton, feeds on microscopic organisms that the tide washes into its maw.
U.S. presidents John Tyler, Millard Fillmore, Andrew Johnson and Chester Arthur all served an entire term without a vice president.


Write a Letter to the Editor









showAds('bigbutton')?>

showAds('mediumbutton')?>

showAds('wildlinks')?>