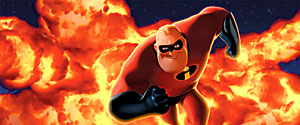 photo courtesy of PIXAR

"The Incredibles" - Craig T. Nelson (the guy from "Coach") is the voice of Mr. Incredible, a.k.a. Bob Parr, and attended the UA. "The Incredibles," from the creators of "Finding Nemo," is playing in theaters everywhere.

By Celeste Meiffren
Arizona Daily Wildcat
Wednesday, November 10, 2004
Print this


What we all really need right now is another superhero movie.

"The Incredibles" is surfing on the superhero movie genre that has created a high-budget geek heaven for present-day comic book hounds and 10-year-old boys.

"The Incredibles" is about people who have outlived their purpose. They are run down, powerless and middle-aged - basically, a college student's worst fear. These superheros are Mr. Incredible, his wife Elastigirl (really, Elastiwoman), their children Violet, Dash and Jack Jack, and Frozone. There are hundreds more superheros, but certainly their stories are not as compelling.

The Incredibles

6 out of 10
Buena Vista Pictures
Rated: PG
105 min.
Now Playing
After a series of unfortunate events, the courts mandated that superheros could no longer use their superpowers, and must only exist as their alter egos. So, they are all stuck in suburbia living normal, boring lives.
Mr. Incredible is nostalgic about his superhero days, and pursues an assignment on a random island, where he finds his nemesis Syndrome. Mr. Incredible gets himself into a bit of a bind, and needs his family to come and save him.
What separates "The Incredibles" from "Spider-Man," "Punisher" and "Hellboy," besides being computer-animated, is its mixture of genres.
"The Incredibles" is really a commentary on suburbia, midlife crises, family, gender roles, teenage angst and all other sorts of issues I learned about in my sociology class. I saw it as a mixture between "X-Men" and "Office Space," only not really as good as either.
A nice group of actors provided the voices. That guy from the TV show "Coach," Craig T. Nelson (editor's note: a UA alum!), was Mr. Incredible, Holly Hunter was Elastigirl, Samuel L. Jackson was Frozone and Jason Lee was Syndrome.
The animation was impressive, as is the case with all things Pixar. And although the picture is PG-rated, I was surprised at the extreme violence and frontal nudity. Just kidding. I was surprised, however, that the bad guys were trying to kill the children. Seemed a bit intense for that baby behind me who started screaming.
This is a movie worth seeing, if you go with the understanding that it is a kid's movie and it is about family. If that doesn't turn you off right away, you will probably like it. And right about now, I think we all need a hero. I know I'm holding out for mine. Mr. Incredible just didn't do it for me.
I heard young boys say, "I think Elastigirl is a MILF" as I left the theater. And while that ultimately makes me uncomfortable, perhaps it is one of the draws for those boys. "The Incredibles" gives them a chance to act out their biggest fantasy, which is to find that "super" lady who is really cool and extremely flexible. And if that's not cute and weird, I honestly don't know what is.


Write a Letter to the Editor