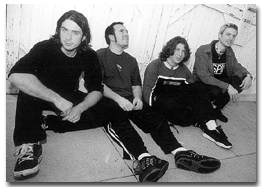 Photo courtesy of Psoma
Psoma from left to right: Guitarist and lead singer Justin Fisher, drummer Marc Blitstein, bassist Pete Novitch and lead guitarist Iain Wade. Psoma plays tonight with Nerf Herder at The Rock.
By Adam Pugh
Arizona Daily Wildcat
California band Nerf Herder shares bassist with tour mates
Working two jobs just to make ends meet is hard work.
But musician Justin Fisher likes his job so much, he doesn't mind pulling double duty.
Fisher, the lead singer and guitarist for California band Psoma, said the band starts each show with its own blend of rock. But what makes Fisher's experience slightly different from the other members of Psoma is the role he plays in both bands - Fisher is also the bassist for its tour mates Nerf Herder.
"I love playing with Nerf Herder," Fisher said, "but Psoma is my priority right now."
Growing up with Rivers Cuomo, the lead singer of Weezer, while also playing in many different bands, Fisher's diverse musical ability has opened many doors. Playing bass and guitar, with a talent for singing, has led to several opportunities for this young musician.
When Nerf Herder lost its bassist two years ago, the band was unable to find a suitable replacement. When Fisher, a longtime friend of the band, came on the scene, he fit into the equation perfectly. Fisher also played on the band's latest release How to Meet Girls on Honest Don's Records.
With the prospect of playing in two separate bands, Fisher said he tries to keep his tour schedule free of conflict by booking Psoma's shows along with Nerf Herder or when the group is not touring.
"The band (Nerf Herder) does not tour that much, so conflicts have not been a problem yet," Fisher said.
Focusing on his new band, which has only been together for a year, Fisher said every member of Psoma takes a part in writing the music. Because it does not have many songs, the group plays short sets and fills any extra time with cover songs, especially those written by Weezer.
The band took its name from an Aldous Huxley novel about doctors that administer the drug Psoma to keep their patients happy. But Fisher made it clear the idea of the band is just the opposite.
"We want people to be happy through our music, not some false state of happiness," Fisher said. "I want to have people be more aware of where they are at."
Psoma just recently released its first self-produced, three-song EP, debuting it on the group's own label, Amherst House Records. The name of the label comes from the house where Fisher, Cuomo and Matt Sharp (from the Rentals and Weezer) all lived - a place that has inspired a good amount of music, including "In the Garage," a tune off Weezer's self-titled album.
Psoma is slowly building its fan base by playing its music as often as possible. The group tries to keep its shows exciting by maintaining high energy and excitement while on stage.
"We are not a shoe-gazing, alternative band," Fisher said. "We make sure the audience is having a good time."
Nerf Herder and Psoma may not make the same type of music, but the fans are not complaining. The shows still have the same full-fledged energy for which Nerf Herder is known.
"The only thing that is different is our styles, "Fisher said.
Psoma and Nerf Herder will play at the Rock, 136 N. Park Ave., tonight instead of at Skrappy's, 201 E. Broadway Blvd., as advertised due to its recent closure. Call 629-9211 for concert time and ticket information.