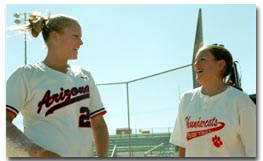 KEVIN KLAUS
UA junior Jennie Finch, left, and 11-year-old Megan Ellsworth swap stories yesterday afternoon at Hillenbrand Stadium. Ellsworth and her family drove up from Benson to see Finch and the Wildcats beat the Oregon Ducks, 6-1.
Arizona Daily Wildcat
Dozens of e-mails flood the Wildcat sports desk every day. Some contain the ramblings of pissed off basketball fans who will miss Richard Jefferson; others responding to various columns written by staffers.
Rarely, though, does one live up to the one sent by 11-year-old Megan Ellsworth Thursday.
In response to our Female Athlete of the Year voting, Megan wrote a letter to us about her favorite female athlete, Jennie Finch of the top-ranked Arizona softball team. Both are dominant first baseman/pitchers on successful teams - Megan for the 17-3 Benson Thundercats and Finch for the top-ranked team in Division I softball.
Megan is 5-foot-6-inch fifth grader who wants to play for Arizona some day; Finch a 6-foot junior who was once the bat girl for Arizona's main nemesis - UCLA.
What was particularly inspiring about Megan's e-mail was what it said, or more specifically, what it didn't say.
The letter said nothing about Finch's pro potential. Not a word about her 23-0 record. Pacific 10 Conference best 0.25 ERA? Didn't even mention it.
"One time I went to one of your games, and after the game was over I went down to get autographs," Megan said to Finch in the e-mail. "When I got yours, you told me, 'Thank you for coming.' That meant so much to me. That really made my day."
It continued: "I think that it is so cool that you are nice to your fans. I have met athletes that are just so mean."
Megan has placed Finch on a pedestal because the junior All-American thanked her for coming to one of her games. Seems like there should be more, huh? Like, Finch saved her cat from a tree, or pulled her aside and taught her how to throw an off-speed pitch that will make a batter's knees buckle.
Nope. Just a simple "thank you."
Considering the nature of all Arizona home games this season, it's somewhat surprising this is the first correspondence of its kind we've received. Finch certainly did make an incredible impression on an 11-year-old, but by no means is she alone.
Following home games, UA softball players are immediately bombarded by autograph requests from kids, senior citizens and those in-between. Fans wait on top of the dugout. They're in the third-base bullpen and behind the center-field fence.
Amazingly, most of the players oblige EVERY request, even after extra-inning games that last well-past 9 on a Saturday night.
Two weekends ago, the team had just won two games against California on Autograph Day and were receiving their standard post-game talk from skipper Mike Candrea.
After Candrea concluded his speech, players raced over to the autograph tables and began signing their names on hats, shirts, programs, gloves and balls hundreds of times.
They didn't talk to their families like the usually do after Candrea wraps up his sometimes-lengthy talks. No post-game interviews for reporters. No getting a drink after a doubleheader in the hot sun.
This is the norm for the softball team. Unlike other UA programs - including some of the so-called "big time" sports - Candrea's players not only accept their positions as role models and heroes, they embrace it.
Toni Mascarenas always has a number of girls following or watching her every post-game move. People inside a car driving away from the stadium on Autograph Day chanted "Toni! Toni! Toni!" as Mascarenas continued to bring smiles to kids' faces by signing her name on various objects.
How easy would it be for these players to pack their bags and get out of Dodge before the onslaught of hyper children hits them? Very easy, and truthfully, some do.
But a handful of players always stick around until the last bright-eyed youngster is satisfied.
This was the case yesterday afternoon, as Megan got her ultimate wish - to "officially" meet Jennie Finch and talk about softball with her hero long after the final pitch was thrown in Arizona's 6-1 win against Oregon.
Finch, not Megan, seemed like the kid at times, often embarrassed at the flattering things her 11-year-old friend was telling her.
"I just want to be like her," Megan said in front of a blushing Finch, her dad Manny and brother Matthew.
Finch understands exactly where the younger pitcher/first baseman is coming from.
"I was in her position when I was a kid, being the bat girl for UCLA," Finch said. "I just can't believe that I'm wearing the uniform now."
For nearly 10 minutes, the two talked about each player's season and posed for pictures taken by Megan's dad. After that, they said good-bye, with Megan vowing to see her new friend play again this season.
Ten minutes. That and a "thank you for coming" was all it took for Jennie Finch to positively affect the life of a girl she knew absolutely nothing about.
Besides Megan's e-mail, we've recently received about 25 others arguing on behalf of the former basketball players who left school early for the NBA.
Money and recognition are the important things, the e-mails stated.
Megan Ellsworth might beg to differ.