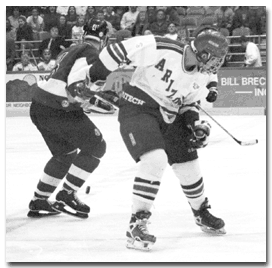 file photo
Icecat senior forward Ed Carfora battles for position with an opponent during the 1998-99 season at the Tucson Convention Center. Carfora was suspended for a game last weekend for a high sticking incident.
Arizona Daily Wildcat
Icecats senior missed last Sunday's game
After being suspended for last Sunday's game against the Saint Louis Billikens for high-sticking, senior forward Ed Carfora is ready for his final home opener as an Icecat.
"I can't wait to play this weekend, at home," he said. "Coming off a loss, we've got to redeem ourselves."
Carfora was suspended from play during last Saturday's game after high-sticking a Saint Louis University player at a game in St. Louis.
In the play, the senior was ejected after hitting a Billikens player in the throat with his stick, causing the player to fall on the ice.
A Saint Louis player was also suspended when he hit Carfora in the back of the head with his stick after Carfora committed the high-sticking penalty.
Both players missed last Sunday's game.
According to UA freshman goaltender Brian Schilling, Carfora's penalty was not a brutal attack.
"At the last minute, he saw this guy coming at him," he said. "Ed was just kind of protecting himself."
Junior defender Tom Wood thought the incident served two purposes.
"It was kind of like he was protecting himself, but it was kind of like retaliation," Wood said. "He hit him really hard in the throat."
Carfora was upset with the suspension, specifically the fact that he was unable to help his team in Sunday's game, a 2-1 loss to SLU.
"I didn't think I deserved to be suspended for that game," Carfora said. "It was really hard to watch (Sunday's game). I think I let my team down. I think if I was out there, I would have given my team a little better chance."
The senior will officially come off of his suspension tomorrow night against Colorado at the Tucson Convention Center.
"I expect a decent-size crowd out there," Carfora. "(The crowd will help) the team get back on track," he said.
The Icecats could use Carfora.
In last weekend's set against the Billikens, UA outshot SLU, 99-46 but split the two-game series. UA scored just one goal in 40 shots on Sunday.
"They're going to start going in eventually," said Carfora. "Once they start going in, we'll start mowing people down."
For the past three seasons, the senior has been one of UA's most hard-nosed enforcers.
Although Carfora led the team in penalty minutes last season, he said that penalties are simply by-products of his style of play.
"The game's just intense, that's just the way I play, that's the way I do everything out there," he said.