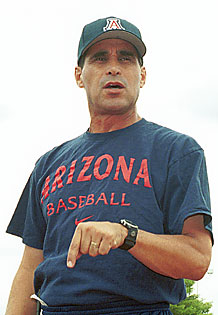 AMY WINKLER/Arizona Daily Wildcat

Arizona head baseball coach Andy Lopez is angered Sunday by the umpires' decision to halt Arizona's game against Stanford with the Wildcats ahead, 15-13, in the eighth inning. Yesterday, Pacific10 officials announced that Arizona would be credited with the victory.

By David Stevenson
Arizona Daily Wildcat
Tuesday Apr. 9, 2002

It took the Arizona baseball team more than five hours to lose the first game of its weekend series with No. 2 Stanford. To win Sunday's final game, it took UA an entire day.

Pacific 10 Conference officials announced yesterday that the Wildcats won Sunday's suspended game against the Cardinal, 15-13.

The game ended after the eighth inning because Stanford and the umpiring crew made an agreement prior to the start of the game to not begin a new inning after 4:15 p.m.

The curfew allowed the visitors to make their 6 p.m. flight out of Tucson that night.

Arizona (22-14 overall, 3-6 in Pac-10 Conference) overcame a 10-1 deficit in the game en route to a win that salvaged a frustrating series for the Wildcats, who lost 19-1 on Saturday and 5-4 in 18 innings on Friday.

"I'm pleased with the win, but I'm disappointed that this takes away from the accomplishments of the players," head coach Andy Lopez said. "After Saturday's loss, our team showed a lot of character after Sunday's game."

On Sunday, UA took the lead for good in the bottom of the seventh when freshman third baseman John Hardy singled home both sophomore designated hitter Marc Kaiser and junior catcher Ken Reilly.

The Wildcats went on to score two more runs on a Cardinal error in the inning to take a 15-11 lead.

Stanford (22-7, 2-1) answered with two runs in the top of the eighth on a double by right fielder Carlos Quentin.

The umpiring crew honored Stanford's curfew at the end of the inning.

While the opposing sides were shaking hands, Cardinal players congratulated the Wildcats on the rally, said first baseman Chris Cunningham.

"They accepted the fact that we came back," Cunningham said. "While we were shaking hands, some of their players told us 'way to go' and 'nice comeback.'"

The suspended game was most likely going to be finished on April 15 at Stanford's Sunken Diamond.

UA would have finished out this weekend's series on the road and will finish out the game at Palo Alto, Calif., next Monday.

"It's a good thing (the game ended). It was going to cause a lot of turmoil for both teams. I think that all of us are happy with the win (since) we came back and pulled ahead," Cunningham said.