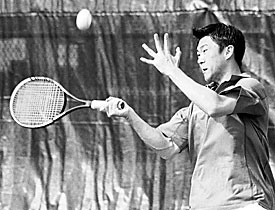 ALYSON E. GROVE/Arizona Daily Wildcat

Arizona sophomore Whi Kim grimaces as he hits a forehand earlier this season at the Robson Tennis Center. The Wildcat men's tennis team won its first Pacific 10 Conference matchup Saturday when it defeated Oregon one day after losing to Washington.

By Staff and Wire reports
Arizona Daily Wildcat
Tuesday Apr. 9, 2002

At the start of the weekend, the Arizona men's tennis team was on the outside looking in on the NCAA tournament.

Arizona had a golden opportunity to move into the postseason picture as it traveled to the Pacific Northwest to take on No. 31 Washington and Oregon.

However, the weekend started out on a bad note for the Wildcats.

UA dropped its match against heavily favored Washington, 0-7.

The match marked the fifth time this season that Arizona has been unable to gain a single point against an opponent.

With high hopes coming into the weekend, Arizona had two options before its match on Saturday - it could come out strong and try to salvage the road trip, or pack it in and give up on its postseason aspirations.

Arizona chose the first option as it came out and defeated the Ducks, 4-3, to earn its first Pacific 10 Conference win of the season.

With No. 6 Stanford and 22nd-ranked California coming to Tucson this weekend, UA still has a chance to make the postseason if they can pull off an upset or two.

The Wildcats' match against California begins Friday at 1:30 p.m., with Stanford coming to town Saturday for a noon matchup. Both contests will be at the Robson Tennis Center.