Commentary: A real hero in our midst
By Maxx Wolfson
---
ARIZONA DAILY WILDCAT
Tuesday October 9, 2001
Somebody was missing at the football game last weekend.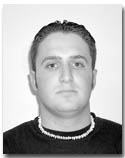 Maxx Wolfson
It wasn't a player or a coach, but rather it was my friend Branden Lombardi.
With a last name like Lombardi, it would only make sense that he has to be around a football at all times.
However, Branden was unable to make the Oregon game and has yet to make a game all season.
But he has witnessed both the highs and the lows for the Wildcats this season.
He has been able to watch every game from either his hospital bed at the University Medical Center, or his home in Phoenix.
Branden, 20, was diagnosed with osteogenic sarcoma - a common form of bone cancer in young adults - during his senior year of high school.
After hurting his knee during a hockey game, his orthopedic surgeon noticed something funny just below his knee joint.
"He had a bunch of tests run to determine what it was, and he wanted to be sure before he just scoped my knee anyways. I had a bone biopsy and it revealed that I had cancer," he said. "I had to go through chemotherapy for six months, and a surgery that replaced the top four inches of bone in my left tibia, and left me with a total knee replacement."
Things looked to be going in the right direction for him after that. He graduated from Desert Vista High School and took a year off to recover from the chemotherapy.
However, only eight months later he received some more bad news.
"In November of 1999, I learned that the cancer had spread to my lungs, and in December I had the cancerous nodules removed from both lungs," he said. "That was followed by another six months of chemotherapy."
After another six months of chemo, Branden was finally able to resume some semblance of a normal life.
He enrolled at the University of Arizona, and even rushed a fraternity.
He was a year behind all of his friends, but he was having the time of his life.
Once he rushed Kappa Sigma, he became president of his pledge class and was the first of his class to get initiated.
"I have wanted to be in a fraternity since I was 5 years old," he said. "I just thought they sounded fun and exciting, and the older I got, I knew it was something I wanted to be a part of when I got to college. The support from Kappa Sigma is something that I think people not in fraternities don't understand that occurs."
However, the semester of his life lasted only that - a semester.
A year ago, nodules were once again detected in his lungs, and Branden was faced with returning home from school, more surgery and a possible treatment of some form.
Currently, he is on the path to recovery once again.
Later this month he will be undergoing a stem cell transplant at UMC to finally - hopefully - eradicate the cancer from his body.
Should the transplant work, he'll have more than his classes and the frat house to look forward to.
Last week it was announced that Branden was one of 7,000 people across the United States honored with the chance to carry the Olympic torch for the 2002 Winter Games. He's been assigned with a two-tenths of a mile stretch between Phoenix and Tucson.
"All I can say is that I'm blown away by being chosen for it, especially in light of what has happened recently in our country," he said. "To be a part of such a patriotic event as the Olympic Torch Relay, I am so proud I don't think it will hit me until I actually get there, and have the torch in my hand.
"The funny thing was that I found out in July, but was told to keep quiet until the press announcement, which was originally supposed to take place on Sept. 12, but obviously that was changed. What is awesome is that it is mostly just regular people that have inspired their community somehow, but the fact that Lance Armstrong, Wayne Gretzky and others are carrying it too, that is pretty darn cool."
Branden has done his best to educate and help others with and without cancer.
He realized after spending so many hours in hospital beds just how boring that was. He thought of the idea that he could buy new televisions, movies, compact discs, compact disc players, computers with Internet connection, books on tape, blankets, hand-held games, snacks and other necessary comforts for chemotherapy patients like himself.
He raised the money in his own charity golf tournament called the Chip in to Fight Cancer 2000, which was held at Club West Golf Course, and raised $20,000 for the cancer patients.
But he hasn't stopped there.
He had another golf tournament this year that raised another $30,000 for cancer patients and will hold a third event on Nov. 9.
The event will be co-sponsored by his fraternity and all profits will be given to his charity.
Unfortunately, Branden will not be able to be at the event because it will conflict with his stem cell transplant.
Having cancer hasn't kept him off the links, though. He still shoots in the 70's on a regular basis.
The one thing that has been hard for Branden is not being able to play hockey anymore. However, he gets to live vicariously through his younger brother, Taylor, who plays in recreational leagues in Phoenix.
"Having something that you loved taken away from you is pretty tough," Branden said. "But honestly, still being able to be a decent golfer makes up for it. I can still compete and beat perfectly healthy people even, which is nice."
With all his free time, Branden has become an expert on nearly every sport and has made me keep up with him. He and I have stayed up hours arguing sports over the Internet when we were unable to do it in person.
His optimistic attitude in every aspect of life has even been carried to his love of his alma mater's football team.
Despite being embarrassed in their last two games, Branden says not to worry about the Wildcats.
"Even watching them lose like they did against Oregon and Washington State, their offense now has the ability to excite the crowd, and make you believe that spotting teams big leads are isn't insurmountable," he said.
Even though he is not related to the famed coach of the Green Bay Packers, Vince Lombardi, it seems that everything Branden says or does is something to be treasured.
In the words of Vince, "If you believe in yourself and have the courage, the determination, the dedication, the competitive drive and if you are willing to sacrifice the little things in life and pay the price for the things that are worthwhile, it can be done."
I think Branden lives his life in that way everyday.
Editor's note: If you're interested, donations to the Branden Lombardi Foundation can be made to P.O. Box 93201, Phoenix, Ariz. 85070