By Staff Reports
Arizona Daily Wildcat March 6, 1997

CD Reviews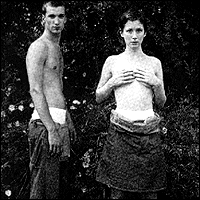 Lamb
Lamb
(Mercury)
I'd love to be able to say I was the one to break this news to you, but if you read that crafty old ZiaZine, you'll know they beat me to it a few weeks ago. I planned to keep my mouth shut until the domestic release of Lamb grew nearer, but what the hell, the cat's out of the bag, and Lamb is hot on it's tail. To the uninitiated, that inevitable (and tiresome) comparison to Portishead will arise. But other than slight similarities in vocalist Lou Rhodes' style, the comparison dies. Call their sound what you will, but know that Lamb is the first vocal act to be accepted whole heartedly into the burgeoning drum and bass community.
At times, it may be enough to say they run jungle beats or sampled strings behind the vocals, and leave it at that. But there's techno here too, and the ghost of trip-hop certainly floats around and wails a bit. But what Lou and partner in crime Andy Barlow have really created here is something unique - a world where jazz and jungle can live side by side, where at one moment the air can be full of quiet, soothing sounds, and the next it can burst wide open with an earth-splitting crack. Lou's voice is somewhere between the mournful tones of Beth Gibbons (Portishead) and the absolutely serene sounds of our good friend Sinead, and the woman's got soul, kids. More than poor Fiona Apple could even comprehend. Just listen once to "Zero" or "Gold" and you'll know it. And each time a song seems to come close to any established convention, just as you reach for it, it becomes something new. You ennui-plagued folks are certainly in for a treat.
-Doug Levy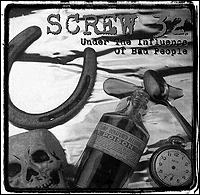 Screw 32
Under The Influence Of Bad People
(Fat Wreck Chords)
What is so great about Under the Influence of Bad People is that it shows Screw 32, Berkeley's finest punk band, have really matured and grown since their last album. On their first release, Unresolved Childhood Issues, Screw 32 showed that they were a great melodic punk band who could play fast. On their new album they have matured both in their songwriting and musical style. The album still has some infectious, speedy punk numbers, but the best songs on this album are the slower ones that could almost be categorized as hardcore.
All through their first album Andrew sang beautifully but it was all in one key, while on this album his voice ranges in key from song to song and the result is quite amazing. Andrew could literally be called the Mariah Carey of Berkeley.
The two guitar attack of Doug Sangalang and J. Grant McIntire displays some of the most intricate guitar lines in punk today. Their constant change of tempo and use of nifty harmony chords make each song stick out like a gutterpunk at a fraternity party. Anyway you put it, this band is an extremely tight unit that will soon be conquering the world.
Screw 32 combined punk with melodic hardcore to make one extremely electrifying album. So bypass the shitty garage and '50s wannabe bands at your local music store and pick up this album. Screw 32 is the punk dynasty of the '90s. They are, as Beck put it, "where it's at."
-Andrew Berenson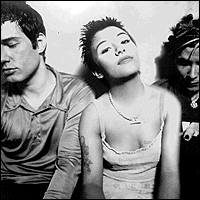 Sneaker Pimps
Becoming X
(Virgin)
If you read my review of the Sneaker Pimps single last semester, or even spoke to me for any length of time, chances are you know what high hopes I had for this band. "Tesko Suicide" was a brilliant first offering, both venomous and poppy, both trip-hop and punk, and "6 Underground" followed with a further boost for these newcomers on the Brit-hop scene. They have topped the charts and penetrated the mighty markets of American radio and MTV. I had already heard nearly half of the tracks on Becoming X , my opinion secured, before the album came into my hands. It just goes to show what happens when we build our expectations up too high.
Don't get me wrong, this is a good CD. It just isn't the great one I wanted. The aforementioned tracks still seem as entrancing as before, but like so many of those damn movie trailers, all the really good parts were in the preview. Still, the silky sound that singer Kelli Dayton's cutely seductive voice throws over "Waterbaby" and the post-industrial haze of "Low Place Like Home" are among many redeeming factors. But while the band emphasizes technology, they sometimes fail to fully utilize the materials at hand. Some of the tracks feel just a little too low-tech, too devoid of the potential displayed by the trio in their singles.
However, in a market where every trip-hop act crawling up through the floorboards does everything they can to mimic Portishead and Tricky, it's real nice to see a group just taking as much as they need from the progenitors, then making their music distinctly their own. You really should buy Becoming X. It isn't going to change to your life, but it may just brighten up your day.
-Doug Levy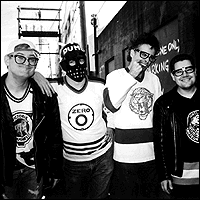 Hanson Brothers
Sudden Death
(Virgin Music Canada)
Lately I've been trading quips with my editor, Dorothy, about the evils of Canadian music. A resident of Vancouver when she's not slumming with us Americans, she claims that there's actually some good music being put out by our neighbors up north. But let's face it - hockey's the only thing the Canadians ever really got right.
Yet too many kids spending too many years in remote little towns seems to have created a pretty decent punk scene up there, too. Combine punk and hockey and you've got the Hanson Brothers - the punk alter-ego of the legendary NoMeansNo. They're not to be confused with the Hanson Brothers from the movie "Slapshot," although they've apparently teamed up for some kind of hockey highlights video.
The music is fast, simple, silly and all about hockey - hockey rinks, hockey games, and girls who hate hockey. The package wouldn't be complete if they didn't include both a petition to let Tiger Williams - "the all-time penalty minutes leader in the NHL" and the "epitome of 'Old Time Hockey' - into the NHL Hall of Fame, as well as a musical tribute to their hero: "He looked a lot like Tiger Williams/ He was brave and strong and true/ But if you tried to cross him/ He would put a hurt on you."
Somewhat inexplicably, there are also a ton of German references scattered among the Beach Boys and Ramones-influenced tunes. I don't know what "Can't Hide the Heino" is getting at exactly, but it sure is funny. Oh, those darn Canadians won another round...but isn't there a new Bare Naked Ladies album due out soon? By the way, the Hanson Brothers will be at Club Congress March 16.
-Jon Roig