By Arlie Rahn
Arizona Daily Wildcat March 28, 1997

Minn. coach knows Kentucky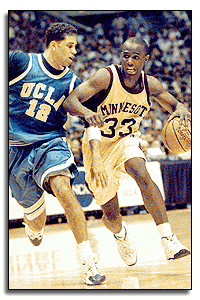 The Associated Press


Minnesota's Eric Harris (33) races by the defense of UCLA's Toby Bailey (12) in second half NCAA Midwest Regional finals action Saturday in San Antonio.


Even if the two teams were not meeting in the Final Four, Minnesota coach Clem Haskins holds a bit of a grudge against Kentucky. When Haskins was a high school junior in Campbellsville, Kentucky, he harbored hopes of one day playing for the Wildcats. Yet there was only one problem as he was not offered a scholarship.

"Living as a farm kid in Kentucky, going to college was really an afterthought," Haskins said. "It finally became a reality in my junior year in high school. And while Kentucky was my first choice, I was happy to go to Western Kentucky."

Haskins' Golden Gophers will look to hand the Wildcats a one-way ticket back to Lexington on Saturday night when they square off 35 minutes after the Arizona-North Carolina contest.

The Gophers possess a solid offensive attack, led by senior Bobby Jackson. Jackson scored a team-high 15 points per game, also contributing over six rebounds per game from the backcourt. With a reputation as a big-game player, Jackson has upped his offens ive totals since the Sweet 16. Against Clemson and UCLA he has scored a total of 54 points on 57 percent shooting.

"(Jackson) is the best guard ever to come through Minnesota," Haskins said. "He is a very explosive player and one of the best kept secrets in the Big Ten."

Forward Sam Jacobson has also been a long range threat, scoring 18.3 points in his last three tournament games. Still, the strength of this team is in its balance. The Gophers have seven players scoring over seven points per game, meaning that any player can pick up the scoring on any given night.

"They do not have many weaknesses. They deserve to be in the tournament," Kentucky head coach Rick Pitino said. "They had a tough schedule and earned valuable experience from the NIT. They really do everything well. They are the toughest team that we will face all year."

With this trip marking Minnesota's first Final Four in school history, the team is trying to battle pregame jitters.

"We need it treat it like another game," Haskins said. "We needed to get our focus back and concentrate on the job at hand and the best way was to bring the guys here (Indianapolis) early."