By Scott Bricker
Arizona Daily Wildcat March 28, 1997

UNC has 'odd' NCAA history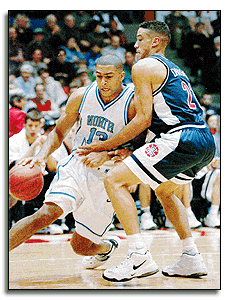 The Associated Press


Arizona forward Bennett Davison, right, pressures North Carolina forward Ademola Okulaja, left, who makes his way to the basket in the first-half action during the Hall of Fame Tipoff Classic at the Springfield Civic Center, November 22 in Springfield, Mass.


The North Carolina men's basketball team has followed a rather "odd" road to success in the NCAA Tournament in the 90's.

The Tar Heels have reached the Final Four in each of the odd numbered years this decade, including a national title in 1993, when they defeated the "Fab Five" Michigan squad by a score of 77-71.

North Carolina suffered a 79-73 semifinal loss to Kansas in '91, followed by the championship in '93 and a 75-68 defeat at the hands of Arkansas in the semifinals in 1995.

The even numbered years have not been nearly as kind to the Tar Heels as they suffered early exits in the Sweet 16 in '90 and '92, and disappointing losses in the second round in '94 and '96.

Will North Carolina continue to follow the pattern and bring home head coach Dean Smith's third National Championship?

The North Carolina faithful would certainly like to think so, and Smith believes his team will be ready to take care of business.

"We are going to have the kids ready to play this weekend," said Smith, making his 11th Final Four appearance, second only to legendary UCLA coach John Wooden. "We have a lot to prepare for, due to the improvement that (Arizona head coach Lute) Olson and his team have made. It should be a very competitive game."

Both coaches have stressed the fact that the first meeting between the two teams back in November, an 83-72 Arizona win, has little or no bearing on this weekend's matchup.

"Our guys won't watch the tape of the game," Olson said. "They are a much different team then when we played them in that game. Our coaching staff will view the tape, but for our guys to see it would be of no use to their preparation."

The Tar Heels will be lead by 6-foot, 9-inch forward Antawn Jamison, who leads the team in scoring, rebounding and field goal percentage. Jamison was held to 11 points in the Hall of Fame Tip-off Classic, but has steadily improved his game since then, gar nering All-ACC first team honors as well as a place on the All-America second team.