By Jon Roig
Arizona Daily Wildcat January 30, 1997

Cool 'Cats on the Prowl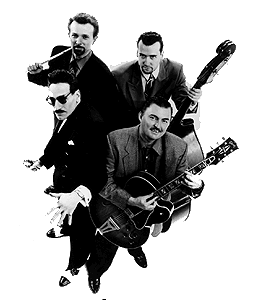 Arizona Daily Wildcat

Courtesy of Alligator Records. Little Charlie Baty, Rick Estrin, Dobie Strange and Ronnie James of Little Charlie and the Nightcats


"What kind of strange place is this?" I asked myself, as I surveyed the inside of the Rialto Cabaret. My friend had already captured the adoring attention of three mustached and middle-aged men. But this was the result of her advances. These guys were too fatherly to be lecherous, but were obviously flattered that a college girl would honor them with her presence, if only to exploit them for cigarettes and free drinks.

It was a lot like visiting one of those Fabulous 50s theme restaurants. Well-mannered middle management types mingled with the Generation Next equivalent of greasers (20 somethings who'd seen "The Wild One" too many times), while the band wailed away in the background.

A lot of work went into the Rialto, and it shows. With an unmatched sound system that was computer modeled by Centennial Hall's sound man, as well as a carefully planned layout, my evening there felt like a blast into another dimension. But that's not to say it wasn't fun - it was actually one of the most enjoyable evenings I've had in a while. Drinks were reasonably priced and well-mixed, and the staff friendly and helpful. And Little Charlie and the Nightcats...

Wow.

For those of you not familiar with this Sacramento, Calif., band, Little Charlie and the Nightcats laid down cool, danceable grooves - a demented fusion that fell somewhere between rockabilly, lounge and the blues, all with a sly sense of humor. They're vaguely reminiscent of Brian Setzer's post-Stray Cats work with his orchestra, but only in the way they occasionally mine the rich veins of West Coast swing. Inspiration seemed to come from everywhere at once.

Guitar hero Little Charlie Baty had ample opportunity to flaunt his blazing musicianship. Snatches of the Munsters theme song found its way into his vast repertoire, without seeming like a cheap novelty. But it was harmonocist/vocalist Rick Estrin who was the star of the show.

Imagine a lounge singer with devastating good looks that rival those of the Digital Underground's Humpty Hump, and you've got Estrin. While the three other guys were dressed all rockabilly-cool, Estrin opted for the reddest darn leisure suit I've ever seen. It was flashy, to be sure, but it perfectly complimented his harmonica technique. The tight and creative rhythm section gave him plenty of room to showcase his utter mastery of the mouth harp, with explosive force and chops that dwarf those of Blues Traveler's John Popper. Plus, Popper would have a lot of trouble finding a big enough leisure suit to compete with Estin.

Like the Rialto Cabaret itself, Little Charlie and the Nightcats manage to transcend the schlock by having fun with the campier aspects of their art. What could've been a trip into the hell that is Disney's House of Blues theme park, turned out to be a fun, if not a little surreal, way to spend the evening.