By Dan Rosen
Arizona Daily Wildcat April 16, 1998

Rugby team to visit nation's capitol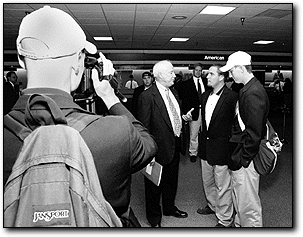 Adam F. Jarrold
Arizona Daily Wildcat

UA junior rugby player Chris Kron videotapes U.S. Rep. Jim Kolbe, R-Ariz., left, as he discusses the finer points of the North American Free Trade Agreement with senior Jason Arcaro, center, and junior Zack Harrison yesterday at Tucson International Airport. Kolbe was on hand to see the rugby team off to Washington D.C. for the Cherry Blossom Tournament.


As the disappointment about not landing a berth in the National Collegiate Championships subsided, the Arizona club rugby team found out its season was not going to come to a screeching halt.

UA is in Washington D.C., playing in the 32nd annual National Cherry Blossom Tournament, one of the most prestigious events in U.S. rugby.

The Wildcats (13-4) missed the national tournament by a total of four points in losses of two points each to the UC-Santa Barbara Gauchos and San Diego State Aztecs.

The SoCal Conference was allowed just one slot in the tournament and the reigning champs would have been the second team invited.

"Of course, we're disappointed we're not in the national playoffs again," UA head coach Dave Sitton said. "However, we are grateful that we have an opportunity to see our nation's capitol, finish our season in the strongest light and to gain prestige for our conference so that two of our teams might be sent to the playoffs in the future."

Before even leaving town, the Wildcat players, coaches and family members gathered at the Tucson International Airport for a send-off delegation headed by U.S. Rep. Jim Kolbe, R-Ariz.

Those traveling with the team will be able to tour the city, thanks to arrangements made by Kolbe.

"It will be a thrill for our guys. It's a great opportunity," Sitton said.

The team gave Kolbe an honorary jersey before it boarded the plane. In return Kolbe handed the team a commemorative flag that the Wildcats will now hoist before games.

In the tournament, the Wildcats will face schools from the East such as Tennessee, Maryland, Boston, George Washington, Harvard, Georgetown, Towsen State, Amherst, James Madison and Cornell.

Arizona has never lost to a team from east of the Mississippi.

The format of the tournament is four three-team pools with two matches on Saturday and two more on Sunday. The games will be played on the U.S. National Mall, which is adjacent to the Lincoln Memorial.