By Amanda Riddle
Arizona Daily Wildcat October 10, 1997

Fiji to ban alcohol on house property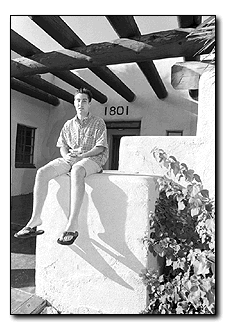 Ryan A. Mihalyi
Arizona Daily Wildcat

Andrew Baraccia, president of UA fraternity Phi Gamma Delta, does not object to the new ban on alcoholic beverages which will begin by July of 2000.


Fed up with the public perception that fraternity members abuse alcohol, a national fraternity pledged it will dry out its houses.

Phi Gamma Delta, or Fiji, national headquarters announced Oct. 2 it will ban alcoholic beverages from its 125 college houses by July of the year 2000.

The University of Arizona Fijis will follow the national trend, said chapter president Andrew Baraccia.

"We (fraternities) can't continue as an organization to be perceived so poorly by the media," Baraccia said. "Fiji is taking the initiative and being progressive."

In going dry, Phi Gamma Delta will join the ranks of every sorority and two other UA fraternities.

Baraccia said there has been increased media attention of late about alcohol-related incidents in the Greek community, a sentiment echoed by National Interfraternity Conference executive vice president, Jonathan Brant.

Brant said NIC wants the members "to excel in school and be healthy. Misuse of alcohol is a pitfall or hurdle for students who are trying to reach their potential."

A Phi Gamma Delta pledge at the Massachusetts Institute of Technology died Sept. 29 from an alcohol overdose, which followed the drinking-related death of a Louisiana State University Sigma Alpha Epsilon pledge.

Leaders at NIC, which is an umbrella organization for 64 chapters including 20 at UA, proposed the Select 2000 Pilot Program in December 1994.

Part of the proposal states all fraternities should strive to be dry by 2000, Brant said, but because the body is not a governing board, members are not required to adhere.

Two factors, a "binge drinking" reputation and the issue of liability, have led fraternities nationwide to consider alcoholic restrictions, Baraccia said.

"We're sick of being the example. We're trying to set the example," he said.

The Phi Gamma Delta governing board adopted the substance-free resolution in mid-August, before the start of the fall semester.

A marketing senior, Baraccia added he believes the decision by a large national fraternity, such as Fiji, to make their houses alcohol-free will spurn other fraternities into action.

Fiji has 125 national chapters with 6,300 undergraduate members, 120 of which are UA students.

Dry houses restrict the consumption of alcohol on house property, while not limiting alcohol at fraternity-sponsored functions held elsewhere, said Bob Gordon, coordinator of Greek Life Programs.

Nationwide, 60 of 174 chapters of Phi Delta Theta and certain Sigma Nu chapters already made the switch.

Sigma Nu last fall became the first UA fraternity to ban alcohol consumption from its house, which is no longer on campus.

Brant Wiehardt, president of Sigma Alpha Epsilon at the UA, wouldn't comment on any move to ban booze.

No steps have been taken at any level to restrict alcohol from Phi Kappa Psi and Pi Kappa Alpha house, said presidents Scott Sommers and Doug Lipsky.

At Delta Tau Delta, each chapter nationwide will send three representatives to a 1998 summer conference to vote on the issue.

The vote has been planned for awhile and is not a response to the recent deaths, UA's Delta Tau Delta chapter president Chris Goodman said.

Bryan Blatt and Jonathan Ebbing, presidents of Alpha Epsilon Pi and Lambda Chi Alpha respectively, said they have not heard from their national offices about going substance-free, but believe eventually all national chapters will mandate the ban of alcohol.

As for now, Baraccia said Fiji will reduce the amount of parties it holds and promote non-alcoholic activities to reach its goal.

"Any change is going to be difficult to accept at first," he said.

"It's really hard to teach an old dog new tricks."