By D. Shayne Christie
Arizona Daily Wildcat October 17, 1997

Disney: anything but 'Goofy'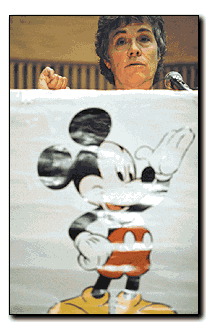 Robert Henry Becker
Arizona Daily Wildcat
University of Oregon Professor Janet Wasko speaks about the Disney empire. She said many scholars have written about how Disney influences the world's sociology.

Walt Disney, who didn't look kindly on deep analysis of his movies, once said, "We make the pictures then let the professors tell us what they mean."
University of Oregon Professor Janet Wasko is an expert on Disney and did just that when she addressed nearly 100 students yesterday at a speech called "Understanding Disney: The Manufacture of Fantasy."
Under all the fairy tale imagery, Wasko said, lies a worldwide entertainment empire that is out to do more than make people happy.
"The original principle of the Disney universe is control," Wasko said.
Since 1984, when Chief Executive Officer Michael Eisner took over and created "Team Disney," the company has since grown into one of the largest media conglomerates in the world, Wasko said.
The multibillion dollar empire controls TV networks including ABC, ESPN, the Arts and Entertainment Network, Lifetime and the History Channel, she said.
It also owns radio stations that reach 25 percent of American homes, publications, runs theme parks, restaurants, a cruise line and even owns an island in the Caribbean, she said.
Not to mention Celebration, Fla. - a 4,900-acre, Disney-sponsored community.
The media giant also is the top video distributor in the U.S. - twice as large as its nearest rival.
With $14 billion in revenues from Disney products alone the company has the cash to expand its operations, she said.
Wasko said Disney's aggressive investing and ability to promote led Fortune 500 to call it one of the few, "archetypal American companies."
Promotion for its most recent animated feature, "Hercules," was an expansive campaign, Wasko said, which featured a "mega-mall tour," a "Herc hits Manhattan," weekend- long festival and promotional deals with companies such as McDonald's and Nestle.
The Governor of Georgia even declared a statewide "Hercules Day" as a part of one promotion.
Disney's control oriented business style is evident in its iron fisted enforcement of company policy, Wasko said.
Employees of the theme parks are required to conform to specific grooming codes, she said, like "neat , natural haircuts," specific shades of fingernail polish and many other rules, she said.
The clean image of the theme parks is so important, Wasko said, that one park hired people to shoot birds who were "befouling" it. Authorities eventually ordered a stop to the shooting, she said.
Disney also came down on a nursery for unauthorized use of characters, Wasko said. She said the preschool had painted Disney icons on its walls. Warner Brothers let the nursery use its characters for free, she added.
Another example is Wasko's school, the University of Oregon, whose mascot bears a striking resemblance to Donald Duck.
The school originally had a verbal agreement with Disney, but faced scrutiny under "Team Disney" who forced the school to limit its use of the duck, she said.
Disney forbids the sale of products bearing the mascot in all cities except Eugene and Seattle and must personally OK all products in question, Wasko added.
In addition, she said, Disney gets 6 percent on every sale.
"Our overriding objective (at Disney) is to provide entertainment and create shareholder value," said Wasko, quoting a Disney official.
The Facts On: Walt Disney
Walt Disney was involved in McCarthy-era Hollywood roundup of alleged communist actors.
Said: "Women bothered me - they still do."
Worked as an undercover liason for the FBI for 25 years.
Mickey Mouse is a recognized word in the New World Dictionary of the American Language that means, "Childish, oversimplified, unrelated to reality, etc."
Later in his career, Disney was unable to draw Mickey Mouse or sign his own name to Disney standards.
Theme park workers use tunnels to move about the park.
People in Hollywood call Disney's studio the "mouse house."
Source: Disney expert and University of Oregon Professor Janet Wasko